Posted on
Mon, Aug 9, 2010 : 3:52 p.m.
Eastern Michigan football coach Ron English apologizes and addresses controversial comments
By Jeff Arnold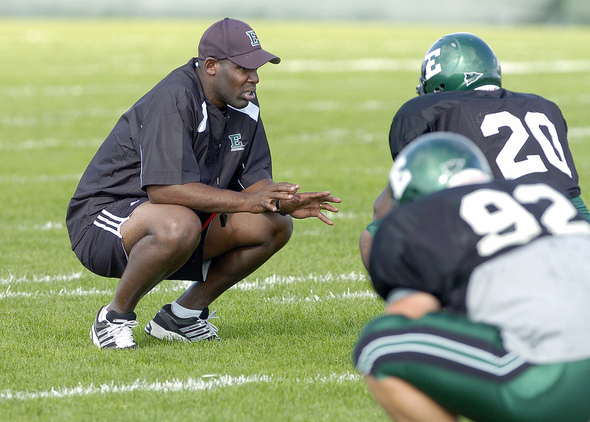 Ron English arrived at work Monday prepared to begin his second fall camp at the helm of Eastern Michigan's football program.
What he didn't expect was controversy caused by a Detroit Free Press column on Sunday that centered on a recent comment English made about favoring players on the recruiting trail who grew up with a father in the household.
While the story used on a portion of comments English made at the Mid-American Conference media day last month in Detroit, English said it was not his intention to sell single mothers short.
"It was my error," English told AnnArbor.com Monday afternoon. "Where I've been, in high-profile situations, you always have to be very careful about what you say. But I want to say I made a mistake."
English, who held defensive coordinator positions at Michigan and Louisville prior to being hired at Eastern Michigan, has an interesting family background.
His mother, who was divorced from his father at the time of English's birth, died when her son was 18 months old. A legal battle followed and English was raised by his grandmother without his grandfather being present until the age of 13. English then was forced to turn to uncles and youth coaches for positive role models - a point he said he was trying to make during his comments in Detroit.
At media day, English was asked about his incoming class of recruits. In a conversation that also talked about a lack of toughness exhibited by his team, which was 0-12 last season, English said:
"You know what the real focus was? We wanted to recruit football players that love football. I felt like we had a lot of guys who really didn't love football. They maybe were playing football so that they could go to school or whatever, but not for the love of playing football.
"So when we went out, we wanted to do two things. We wanted players who love football, who have the physical ability to play football and then the other thing we wanted was guys that could be coached. We wanted guys that had a father in their background because if you don't, the hard part is, some guy like me coming in and corrects you. So you're working - that's a whole another dynamic. A guy that's raised by his mom - and please don't take me wrong - but the reality is, you have to teach that guy how to be taught by a man. That's part of it."
On Monday, English clarified his comment that he often finds difficulty in dealing with players who do not have a father figure in their lives. He said some players become offended when English or his assistants correct them in practice.
Given his own background, English said he can't understand how he could be viewed as a person with a problem with single mothers.
"I don't know how you could say that. It doesn't even make sense," English said. "I know with families with the way they are today, there are going to be divorces and there are going to be single parents.
"As a program, if we said, 'We're only recruiting players with two parents in the home, our recruiting pool would go from big to very small."
English said he was made aware of the controversy Monday morning when Eastern Michigan athletic director Derrick Gragg showed him a copy of Sunday's Free Press story.
Gragg said he had discussed the matter with his superiors before meeting with English.
Gragg said he was concerned when he saw the Free Press story Sunday because he knew it could possibly be taken the wrong way. But Gragg, who hired English after former coach Jeff Genyk was fired, said he believed English's comments were taken out of context.
English will not face any disciplinary action, Gragg said. "We're all public officials, and we want to make sure that people understand what we were actually trying to say," Gragg said Monday. "I think him being proactive wanting to address this was necessary and was the right thing to do."
Jeff Arnold covers sports for AnnArbor.com and can be reached at (734) 623-2554 or by email at jeffarnold@annarbor.com. Follow him on Twitter @jeffreyparnold.