Posted on
Fri, Jul 30, 2010 : 5:22 p.m.
Eastern Michigan football coach Ron English tears his team down to properly rebuild his program
By Jeff Arnold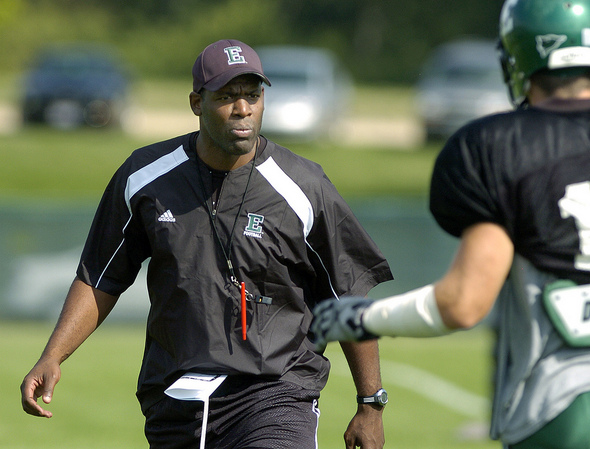 DETROIT - When the Eastern Michigan University football team begins practice Aug. 9, the roster won't include 39 names it did a year ago. Fourteen players graduated. Twenty-five others either were asked not to return or chose to leave.
EMU coach Ron English, who replaced six members of his coaching staff, believes the turnover will benefit his team. He believes the Eagles are better equipped to begin building a winning program.
"If you go to Detroit right now and you buy one of these old houses, are you going to try and refurbish it or are you going to knock the thing down and start over?," English said Friday. "You're probably going to knock it down and that's what we did. We said, 'We're going to take a hit here, but we're not going to tread water.
"We're going to knock the thing down and start over."
Finishing 0-12 in English's first season, EMU was picked to finish last in the Mid-American Conference's West Division at Friday's MAC media day at Ford Field.
English said he refuses to let last year's finish, preseason prognostications or questions about the turnover distract him.
The players who departed were, English said, either unwilling to compete the way he wanted or didn't want to put the necessary academic time. The fresh start is paying off, he said. English's players are seeing differences.
"You could definitely tell that there were guys that didn't really want to be here," junior offensive lineman Bridger Buche said Friday. "But this is definitely a different team - just the attitude in the workouts, when we're just together, it's just different and you can just tell that we're all in."
There's still a lot of question marks surrounding English's team. Alex Gillett and Devontae Payne are competing for the starting quarterback job. Both are young and neither has proven to be the runaway leader for job.
Eastern's defensive line is bigger and more physical and may headline a unit that English said he should have taken more control over last year when the Eagles ranked last in the country in run defense.
The Eagles' secondary lacks depth but is talented and will get a big boost from safety Latarrius Thomas, who sat out last season after transferring from Louisville.
For all the issues that need addressing before the season starts Sept. 4 against Army, English's comfort level is noticeably higher than it was last year. While there are no marquee names to point to in terms of a go-to player, English feels his team overall is at a better place.
But, there is still work to be done, especially when it comes to hanging the culture of a program that hasn't posted a winning record since 1995.
"If you haven't won, you don't appreciate how hard it is to win and you're not willing to do the work," he said. "You see a lot of close games where a team loses at the end and that's because they're not really willing to do what it takes.
"I think you need to teach people how to win and there's a point where it's not a talent issue. It's a mentality issue."
Jeff Arnold covers sports for AnnArbor.com and can be reached at (734) 623-2554 or by email at jeffarnold@annarbor.com. Follow him on Twitter @jeffreyparnold.