Posted on
Wed, Nov 17, 2010 : 3:25 p.m.
Eastern Michigan football coach Ron English witnesses progress, looks to finish season strong
By Jeff Arnold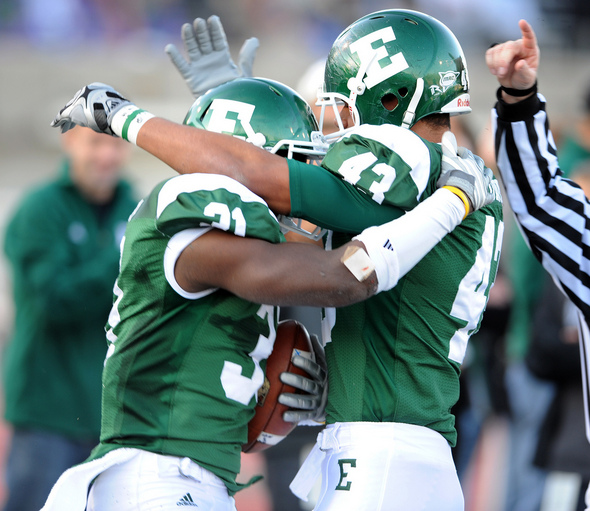 Lon Horwedel | AnnArbor.com
Eastern Michigan football coach Ron English looks at the bright spots on offense, fresh off a 45-30 loss to Western Michigan when the Eagles racked up a season-best 491 yards.
English looks at the flickers of solid play on defense, which hopes to take another step forward Saturday at Buffalo (2 p.m., WEMU, 98-1-FM).
The little things matter for English in his second year at Eastern (1-9, 1-5 Mid-American Conference). "You've got to compete before you can win," English said Wednesday. "I think we've been competitive a lot this year. I think we've just got to detail it out to win games."
While the Eagles' offense has improved in spots - quarterback Alex Gillett threw for 214 yards and two touchdowns last week while also rushing for 159 yards - the inconsistency has come on defense.
Eastern allows an average of 43.9 points per game. Before last week when English said his defense hit a wall against the Broncos, the unit had shown signs of improvement.
In a 30-17 loss to Ohio last month, Eastern allowed just 10 first-half points. A bad third quarter made the difference as the Bobcats scored 20 unanswered points, leading to another loss. After not playing well at Vanderbilt. the Eagles rebounded, playing well down the stretch of the Eagles' only win - a 41-38 overtime triumph over Ball State.
Two weeks later, Eastern started fast again, keeping the Eagles competitive for a half against Toledo before the Rockets finished the game with 27 second-half points. This week, Eastern takes a crack at a Buffalo offense that has scored a total of 43 points in five straight losses.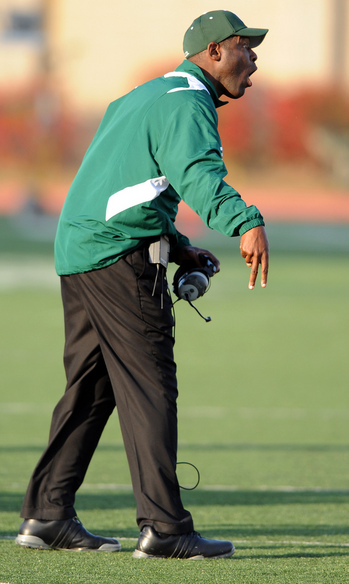 Lon Horwedel | AnnArbor.com
First-year Bulls' coach Jeff Quinn realizes the importance of turning things around Saturday against Eastern Michigan.
"We have been playing too much catch-up football, and you're not going to sustain and get wins playing like that," Quinn said after last week's 20-3 loss to Ball State. "I am going to find another way to get this team to play at its highest level against Eastern Michigan.
"I am not going to get through these last two games. I am going to get through the next moment and get this team ready to play. This next game is going to be most important."
The Bulls (2-8, 1-5 MAC) picked up their only conference win in a two-point win against Bowling Green. Eastern is 3-0 all-time against Buffalo.
The Eagles are a seven-point underdog heading into Saturday's game.
"It's like building anything. When you first start building, it doesn't look like much - you've got parts everywhere," English said. But you start building the first part and then the second part and it starts taking shape and then all of a sudden you've got a finished product.
"We're a long way from the finished product, but I believe we're building a strong foundation here."
Jeff Arnold covers sports for AnnArbor.com and can be reached at (734) 623-2554 or by e-mail at jeffarnold@annarbor.com. Follow him on Twitter @jeffreyparnold.