Posted on
Fri, Nov 26, 2010 : 5:04 p.m.
Eastern Michigan football run over in 71-3 season-ending loss to Northern Illinois
By Bison Collins Messink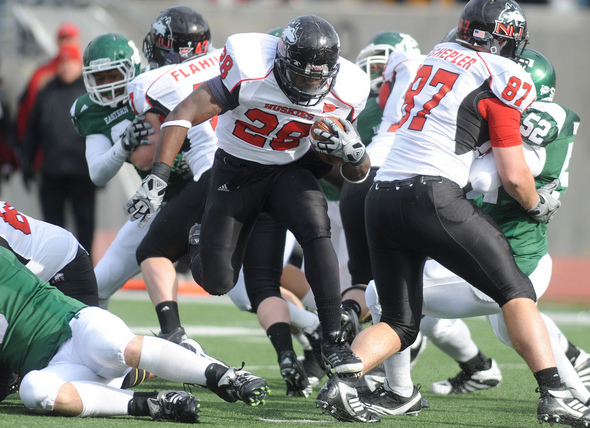 Angela J. Cesere | AnnArbor.com
In a game so one-sided, played in temperatures so cold, the Eastern Michigan football team was more focused on getting off the field than it was on any type of comeback.
"When the score got out of hand, we wanted the clock running and we wanted to get out of there," said Eagles coach Ron English. "We legitimately couldn't stop them, so we wanted to run that clock."
Northern Illinois' 71-3 win at Rynearson Stadium on Friday afternoon was Eastern's most lopsided defeat since 1905.
The 71 points allowed were second most in school history, eclipsed only by the 73 the Eagles allowed to Ohio State earlier this season.
But unlike the Ohio State loss, when English was upset at Buckeye coach Jim Tressel for passing the football and running a trick play late in the game, Northern Illinois passed just once in the second half.
Eastern Michigan simply couldn't tackle the Huskies.
In the second half, Northern Illinois had four touchdown runs of more than 60 yards, even though the Huskies were playing their second and third string.
After falling behind quickly 20-0 and trailing 37-3 by halftime, Eastern (2-10, 2-6 Mid-American Conference) never attempted to throw the ball downfield as a way to play catchup. Quarterback Alex Gillett was 4-of-9 passing for just 11 yards. The Eagles ran the ball 55 times for 149 yards.
Northern Illinois (10-2, 8-0) gained 646 yards, 544 of them on the ground.
After the loss, English was matter-of-fact in assessing his team's performance.
"Let's talk about reality," English said. "(Northern Illinois) is going to hit you in the mouth. That is a legitimate football team, and it is 20 degrees out there.
"It did not look like we wanted to play today. After we got hit in the mouth a couple times, we didn't want to play. And that falls on the head coach."
English, however, remained upbeat about the progress of the program this season, and its potential for further progress.
"I feel good about the season, but today is a sour pill to swallow," English said.
The Eagles have had problems defensively this season, particularly giving up long scoring plays off of rushes and short pass completions.
That was never more apparent than Friday, when Northern Illinois' Jordan Lynch scored on runs of 81 and 61 yards and three other Huskies scored two touchdowns each, including runs of 74, 71, 61, 30 and 22 yards.
"On defense you gotta do it with players. And when we can't tackle a guy one-on-one, I don't know how much coaching that is. We had a free guy to the ball, schematically, on all those plays."
English's top priority for the offseason will be recruiting better players, particularly on the defensive side of the ball.
"You can't play defense without good defensive players. And we don't have even close to enough good defensive players in this program," English said.
Ultimately, the 2010 season was an improvement over 2009, when the Eagles were 0-12. Both wins -- over Ball State and Buffalo -- came on the road against MAC opponents.
With a somewhat lighter non-conference schedule next year, and more winnable home conference games, there is reason to believe Eastern Michigan could show further progress in the win column.
But losses like the one on Friday show how far away those wins are.
"We're putting a program in place," English said. "It doesn't always show, but we've made huge strides in terms of putting our program together."