Posted on
Thu, Sep 29, 2011 : 12:46 p.m.
Eastern Michigan football team returns home seeking run-pass balance
By Rich Rezler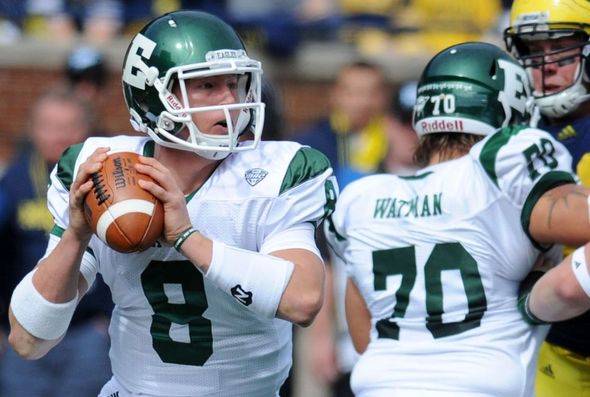 Melanie Maxwell | AnnArbor.com
The
Eastern Michigan
football team returns to Rynearson Stadium on Saturday after consecutive road games at Big Ten stadiums.
But which version of the Eagles' offense will Akron see?
Will it be the unit that stubbornly stuck to its ground game in a 31-3 loss at Michigan, attempting only one pass in the second half despite trailing by 18 points the first time it touched the ball?
AKRON AT EASTERN MICHIGAN
WHO:
Akron (1-3, 0-1 MAC East) at Eastern Michigan (2-2, 0-0 MAC West)
WHERE: Rynearson Stadium, Ypsilanti
WHEN: 1 p.m. Saturday
RADIO: WEMU (89.1 FM)
ODDS: Eastern Michigan is favored by 9 1/2 points.
LAST MEETING: Akron won, 28-21, on Nov. 27, 2009.
Or will third-year starting quarterback
Alex Gillett
, who attempted a career-high 31 passes in
a 34-6 loss at Penn State
, continue to air it out?
According to Eastern Michigan coach Ron English, Akron will see a little of both when the Eagles (2-2) open Mid-American Conference play.
The Zips (1-3, 0-1 MAC East) are looking for their first road win since a 42-35 victory at Eastern Michigan in 2008.
"I think we're going to have to be more balanced as you get into conference play," English said. "We know that, so we worked on it last week. We know we have to be balanced, we know we have to be able to throw the ball to reach our goals."
After completing 3-of-5 passes for 29 yards against Michigan, Gillett was 18-of-31 for 202 yards against a Penn State defense that limited the Eagles to 68 yards rushing -- 221 yards below their average through three games.
"I don't think we had to throw it 30 times last week, I think we chose to do that," English insisted. "I think we're going to do what it takes to win the game. If that's throwing it 30 times, that's what it is. If it's running it 30 times, that's what it is."
English praised Gillett's game against Penn State, except for an interception late in the first half that set up the Nittany Lions for a short scoring drive and a 17-0 halftime lead. The quarterback also lost two fumbles in the first half on Penn State sacks.
"I really thought we had a chance to go into halftime 10-0, and I thought if we go into halftime 10-0, we had a chance to make a game of it late in the game, and that's really what we wanted to do as a program," English said. "The thing you can't do is give games away. To get beat is one thing, but to give it away is another. We all know that turnover margin and penalties hugely effect the outcome of a game."
Despite averaging just 7.7 points over its last three games - three Kody Fulkerson field goals were the extent of the Eagles' scoring against Michigan and Penn State -- the defense has kept Eastern Michigan in games.
Through four games, the Eagles' defense is allowing 20.2 points per game, its best effort since 1989 and the 37th-best average in the nation. At this point last season, teams were averaging 46.0 points against the 0-4 Eagles.
"Ron's done a really good job with his talent level," said second-year Akron coach Rob Ianello. "Those guys are playing hard, they're sound, he's taught them how to win."
Akron, picked to finish sixth in the MAC East, comes to Rynearson after its first victory of the season, a 36-13 win over VMI. The Zips started the season with convincing losses to Ohio State (42-0), Temple (41-3) and Cincinnati (59-14).
Junior college transfer quarterback Clayton Moore had his best game for Akron against VMI, completing 13-of-28 passes for 223 yards and three touchdowns.
"I think we learned that we played very good teams, and in doing that we did not play as well as we're capable of playing," Ianello said. "I think I see resiliency, I think I see want-to, and I think we've demonstrated some mental toughness after not having success the first three weeks."
Rich Rezler is a sports producer for AnnArbor.com. Contact him at richrezler@annarbor.com or 734-623-2553.