Posted on
Sat, Feb 23, 2013 : 3:40 p.m.
Eastern Michigan goes cold down the stretch in 57-54 loss to Missouri State
By Pete Cunningham
Down only 47-39 and with four minutes, 39 seconds remaining against Eastern Michigan, it seemed a bit early for Missouri State to start conserving the clock.
But Eastern had led the game since 4:30 into the game, and with the Eagles stretching every possession to the very end of the shot clock, that 4:30 seemed like barely any time at all.
So Missouri State coach Paul Lusk called for the Bears to let the ball roll to halfcourt on the inbounds in order to milk every second out of the clock he could.
Nathan Scheer hit a 3-pointer on the possession, and so started a 14-0 run that would lead to a 57-54 loss for Eastern Michigan at the Convocation Center on Saturday. The Mid-American Conference vs. Missouri Valley Conference matchup was part of the 2013 Ramada WorldWide Bracket Busters event.
Eastern (12-15) scored just seven points in the final six minutes of the game, all of which came in the final 39 seconds.
"We needed all the time we could get because they make you have such long posessions with their zone," Lusk said. "And then on the other end, we're trying to guard them, but they're running their shot clock all the way down.
"So every second matters when you're on the road, every second matters especially when you're down."
Despite the extended scoring drought, after Thompson's 3-pointer Eastern was only down three with 39 seconds remaining. But needing to foul on Missouri State's next possession, it happened to be Thompson who did the fouling to stop the clock.
It was Thompson's fifth foul, which left the Eagles without their leading scorer down the stretch. Thompson finished with 19 points and was 4-of-6 from 3-point range.
"Derek to his credit, made the play. Big team play. We had to stop the clock and put someone on the line," said Eastern Michigan assistant coach Kevin Mundro. Head coach Rob Murphy was not available after the game due to a family emergency according to an Eastern Michigan representative. "(Thompson) played a whale of a game."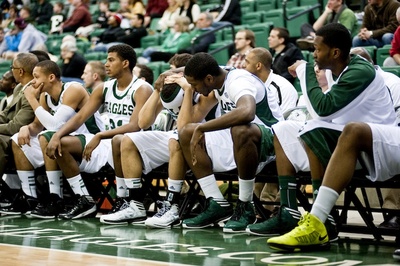 Joseph Tobianski | AnnArbor.com
After
J.R. Sims
made a pair of free throws following a Missouri State technical foul, Eastern Michigan had possession and trailed by three with four seconds remaining. Eagles sophomore
Antoine Chandler
came open on the inbound and was fouled immediately.
Chandler missed the front end of the one-and-one, ending Eastern's chance at a comeback in the final seconds.
"We were fouling whoever got it when we were up by three," Lusk said. "We weren't going to let it get to overtime."
Chandler had missed the front end of another one-and-one with Eastern down four with 21 seconds remaining. The two high-pressure situations happened to fall on the shoulders of the sophomore guard who played less than a minute in the game.
"You never know when your number's going to be called," Mundro said. "He probably went to bed last night dreaming of a situation like this. I mean it's not the end of the world, next time he's gotta make 'em, and I think he knows that. But he didn't lose this game."
Lusk said fouling Chandler specifically -- who played least of any player to enter the game -- wasn't part of his team's end-of-game strategy.
"It just happened that way," Lusk said. "Whoever got it we were fouling on the catch."
Eastern started the game hot from the outside, making its first four 3-pointers of the game and leading by as much as nine in the first half. The Eagles took a 29-21 lead into halftime.
The Bears (9-20) started the second half on a 7-0 run, but after back-to-back buckets from Thompson, including a four-point play after he was fouled on a 3-pointer, Eastern appeared in control.
That is until they went completely cold with six minutes to go in the game. Eastern finished the game 8-of-16 (50 percent) from 3-point range.
Anthony Downing gave Missouri State the lead for good with a spinning jumper in the lane with 2:45 remaining in the game. Downing finished with a team-high 16 points.
Austin Harper had nine points and six assists off the bench for Eastern.
Pete Cunningham covers sports for AnnArbor.com. He can be reached at petercunningham@annarbor.com. Follow him on Twitter @petcunningham.