Posted on
Thu, Apr 21, 2011 : 5:08 p.m.
New Eastern Michigan basketball coach Rob Murphy: 'I will not let you down'
By Michael Rothstein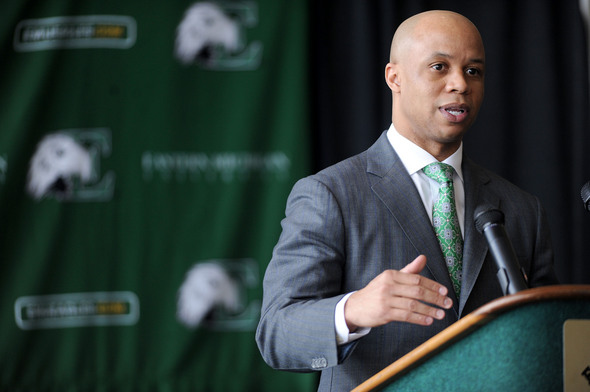 Angela J. Cesere | AnnArbor.com
He took the stage in a room full of supporters and old colleagues, players he once coached and was about to coach. In the atrium just outside the Eastern Michigan basketball court, Rob Murphy started his head coaching career with a public press conference that felt more like a revival.
He became emotional within his first few minutes on the makeshift podium. Family members in the front row yelled encouragement to "take your time." He looked among the crowd and saw NFL star Antonio Gates, who he coached in high school when he was an assistant at Detroit Central, and Derrick Coleman, who Murphy grew close to as a Syracuse assistant coach. He saw his high school coach at Detroit Mumford, who convinced him as a senior to become a coach.
For a minute, Murphy was overwhelmed.
"To see all those people out there," Murphy said. "It was kind of emotional remembering."
As he sat in the second floor of the Eastern Michigan Convocation Center just outside of his new office about two hours after he was introduced, the whirlwind caught up to him again.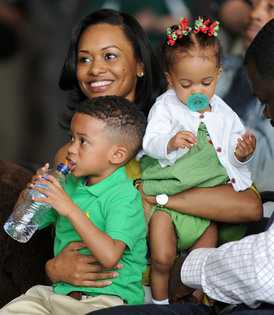 Angela J. Cesere | AnnArbor.com
Twenty-five days ago, Murphy applied for a head coaching job at Kent State, where he was an assistant coach from 2002-04. It was his first assistant coaching job after five years as the head basketball coach at Detroit Crockett High. A couple of days after the interview, he pulled his name out of the process and figured he'd be an assistant at Syracuse for his eighth season.
Then Eastern Michigan fired Charles Ramsey and Murphy's wife, TeNesha, told him to apply for the job. It was a head coaching gig in a conference he knew, 45 minutes from the city he grew up in.
Murphy started as one of 45 to 50 applicants Eastern Michigan athletic director Derrick Gragg and the search firm he hired, DHR International, started with.
Eventually, Gragg and the firm had 10 finalists and interviewed eight people over a 24-hour period last weekend between commencement ceremonies.
"One of the things we really, really wanted, whether it was regional ties, Mid-American Conference ties, state of Michigan ties, obviously, were preferred," Gragg said. "When it comes to recruiting around the state."
They were also looking for someone with college head coaching experience, something six of the final eight candidates had, Gragg said. When Murphy stepped into his 7:30 a.m. interview Saturday, he thought his chances were slim.
"After I left the interview process, my agent called and I told him I wanted to move on because I had went through the process at Kent, and I really didn't think I had chance coming into the interview here," Murphy said. "So I told him I wanted to pull out if I didn't hear anything in a day or two, just concentrate on Syracuse, because I understood there were a lot of great candidates for the job, guys who had head coaching experience and had been to the NCAA tournament. So I understood what they were looking for."
Murphy had no idea how he did on his interview, how much his vision impressed EMU President Susan Martin, Gragg and the Board of Regents. He had no idea how guard Derek Thompson, who met with Murphy and all the coaching candidates during their interviews, felt immediately comfortable with him.
Murphy's agent called him a day later and said he was in EMU's final four candidates and then the final two. He stuck with his Syracuse recruiting duties, heading to Washington, D.C., Baltimore and Philadelphia on Monday.
Not wanting to get anyone's hopes up, he didn't tell his wife about the call. Figured it was better to wait. Just as he finished for the day in Philadelphia on Monday around 8 p.m., Murphy's phone rang in his car.
It was Gragg.
"He said 'I think you're going to be our guy, but we have to do the background check, and if everything comes back positive, you're going to be the guy, it's going to be your job. I can't tell you that, but you're our guy, you're our No. 1 guy, it's your job.'" Murphy remembered.
The conversation shocked him, as he responded to Gragg 'Really?' Then he altered his plans. Instead of staying in Philadelphia for the night, he caught the last flight back to Syracuse and spoke to TeNesha.
"I'm like, 'Are you sure you want to move to Michigan,'" Murphy asked his wife. "She said, 'I'm the one who told you to go after this job. It wasn't you, it was me. You deserve this opportunity. You've been coaching your whole life, how much you love the game of basketball and how much you put into it. This is your chance to go home and do it.'"
The next day, Gragg called again and officially offered Murphy the job. He accepted and signed his contract, a five-year deal with a salary of $210,000 per year before incentives and a $15,000 per year radio show contract, Wednesday evening.
"He's been preparing his whole life for this position," Martin said in introducing Murphy.
"He, more than anybody in the pool, would be able to (rebuild a connection to Detroit)," Gragg said. "Get in there and find young men that can come in here and be very successful academically and athletically."
This all led to Thursday, when he shook more hands than he could ever remember, hugged and took pictures with Coleman, Gates and former Syracuse forward Terrence Roberts, who happened to be in town. He heard he had the support of Detroit mayor and NBA legend Dave Bing.
He also put pressure on himself from the first day, telling the crowd eating up his every word what he said in his interview Saturday: "I will not let you down."
Michael Rothstein covers University of Michigan sports for AnnArbor.com. He can be reached at (734) 623-2558, by email at michaelrothstein@annarbor.com or follow along on Twitter @mikerothstein