Posted on
Sat, Aug 31, 2013 : 9:06 p.m.
Eastern Michigan erases second-half deficit to beat Howard, 34-24
By Kyle Austin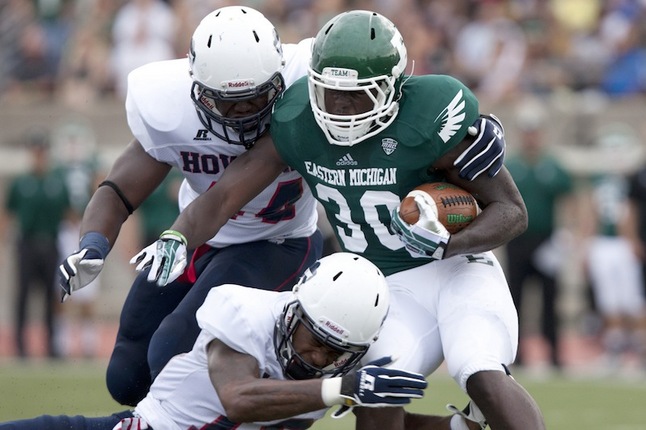 Patrick Record | AnnArbor.com
Updated at 10:25 p.m.
Down by double digits to an FCS opponent in its season opener at home, Eastern Michigan finally woke up.
The Eagles scored consecutive touchdowns late in the third quarter and early in the fourth as they came back in a 34-24 win Saturday night at Rynearson Stadium.
More Coverage: Boxscore
Looking for improvement following a 2-10 season last year, the Eagles avoided an opening night upset after a back-and-forth first three quarters.
And for coach Ron English, an 11-point comeback in the final 16 minutes of the game served as a good learning experience for his team.
"We've been preaching that and preaching that and we couldn't have had a better scenario," English said. "Because the only way you learn to do that is to actually do it in a game."
After Eastern took a 13-10 lead into the halftime break, the Bison scored on drives of 80 and 90 yards to go up 24-13 to open the second half. On his team's first drive of the second half, Howard's Jonathan Booker caught a pass along the sideline, broke a tackle and streaked 33 yards to the end zone to put his team up by four.
The Bison again went to the big play on its next drive, when quarterback Greg McGhee raced 75 yards up the middle after a fake handoff, going all the way down to the EMU 3-yard-line.
EMU had completed a successful goal line stand when a McGhee pass fell incomplete on fourth down. But EMU's Donald Coleman was called for roughing the passer on a helmet-to-helmet hit, and the Bison scored on the next play. That put Howard up by 11.
But Eastern responded with its best drive of the day, going 73 yards in three minutes, including 49 passing yards from junior quarterback Tyler Benz, to pull within four.
"We still had about a quarter and a half to go, so we couldn't panic or start to do things out of character," running back Bronson Hill said.
Just after Howard got a first down and appeared to have started another drive, EMU linebacker Sean Kurtz recorded an interception and gave EMU the ball at the Howard 15. Four Hill runs later, EMU scored the go-ahead touchdown.
"I just kind of rovered over, and the quarterback just looked right to me and threw it," Kurtz said. "It was a pretty easy pick. It was pretty exciting."
After a slow start, with 38 yards in the first half, the sophomore Hill went over 100 yards rushing for the fourth time in his EMU career.
English said he thought Hill was looking for the big play too much in the first half, before settling in in the second. His long rush for the day was 11 yards. He finished with 28 carries for 101 yards.
"It just took a lot of patience," Hill said. "I didn't really have that many long runs this game, no big highlight plays, so it was one of those type of games. I really had to just keep doing the same thing over and over and they got tired."
Benz, meanwhile, finished with 210 yards passing on 19-of-26 passing with two touchdowns and an interception -- on the one play that English called during the game.
Eastern added the insurance with 3:14 left, when sophomore running back Darius Jackson rumbled 19 yards for the score.
After a Benz interception on Eastern's first drive of the game, the Eagles went 77 yards on 14 plays on their second drive, culminating in a touchdown pass to tight end Tyreese Russell.
Howard got on the board with eight minutes left in the first half, when a delayed handoff fooled the EMU defense and the Bison's William Parker ran 65 yards up the middle for a score.
The Bison finished with 202 yards rushing, but 140 of those came on two runs.
"I don't think it was really a matter of us not knowing what to do or anything like that," Kurtz said of the long runs. "We were in the right spot to make a play, Howard was just a great team."
The Bison took the lead five minutes later on a field goal, with three minutes left in the half.
But Benz operated the hurry-up offense efficiently at the end of the half, taking the Eagles 75 yards on seven plays in 2:24. The drive was capped off by a 33-yard touchdown pass from Benz to a diving Damarius Reed.
Eastern now heads on the road for consecutive weeks, next Saturday against Penn State and the following week against Rutgers.
"It's better to learn while winning than to learn while losing," English said. "And we have some players that are going to learn a lot from this game in all areas. And we know we've got a tough road, too.
Kyle Austin covers sports for AnnArbor.com. He can be reached at kyleaustin@annarbor.com or 734-623-2535. Follow him on Twitter @KAustin_AA.