Posted on
Fri, Jul 9, 2010 : 1:32 p.m.
Eastern Michigan offers incentives, raffles to lure fans to football games
By Andrew Reid
Ron English's coaching debut with the Eastern Michigan football team came against Army in September 2009, and it drew a crowd.
Attendance, helped by tailgates for Armed Forces veterans, reached 14,500.
"There are some people who've been around here an awfully long time, and they all said it was the biggest crowd we've ever had at Rynearson Stadium," Eastern Michigan athletic director Derrick Gragg said. "There was a lot of excitement around the program, and it was great to see a crowd like that."
The crowds didn't last. Three weeks later, after the Eagles struggled to an 0-3 start, 3,300 fans came to English's second home game, a 24-12 loss to Temple. The low point of the season was Oct. 24, when 1,500 people attended Eastern Michigan's game against Ball State.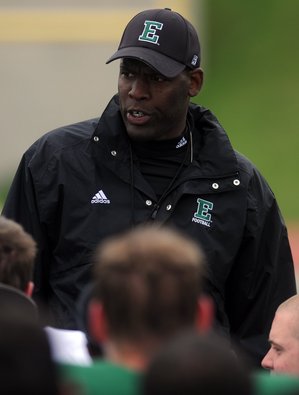 Melanie Maxwell | AnnArbor.com
According to statistics released by the NCAA after the 2009 regular season, the Eagles averaged 5,016 fans per home game, the lowest average attendance in the Football Bowl Subdivision. The next lowest was Florida International with 10,200.
Eastern suffered a decline of almost 70,000 total tickets sold from 2008. And besides monetary concerns and the lack of a home-field advantage, Eastern Michigan may have deeper worries about all those empty bleachers.
The NCAA rulebook states, "Football Bowl Subdivision teams have to meet minimum attendance requirements (average 15,000 people in actual or paid attendance per home game), which must be met once in a rolling two-year period."
Although no FBS team has ever been demoted to the FCS level, technically the NCAA could penalize Eastern Michigan if the program doesn't show an increase in attendance in 2010. The Eagles have hit the 15,000-mark just once since 2005, when they averaged more than 18,000 fans in 2008.
The athletic department is focused on turning the tide this season, not only for the football games but the entire spectrum of Eastern Michigan athletics.
"We're changing the atmosphere of the stadium, what it feel like when you walk into it," English said. "I think that the more consistent you can be in terms of the people that are showing up, the better. Hopefully, what you want is a group of fans that show up week in and week out. You want them to show up and know when to cheer."
For starters, the athletic department has created an incentive-based program for potential season-ticket holders.
"We're trying to get outside the box and thinking of ways to get fans and students more excited about EMU sports," Gragg said. "Things like, possibly a large outdoor concert in conjecture with one of the football games."
All season ticket holders will be entered into raffles with the chance to win Eagles jerseys or helmets, sideline passes to home games, the "opportunity to serve as an honorary captain during the coin toss," and gift cards to the Eagles gift shop. The two grand prizes are an all-expenses-paid trip to Eastern Michigan's game at Virginia and tickets to the Eagles' game at Ohio State.
"It's an ongoing thing, so it'll be a tough to target exactly when we made (attendance) a priority," Gragg said. "There was an increased attention paid to it this past year, and we have an increased partnership with marketing department, which has been very helpful, especially during basketball season."
The athletic department had success during the 2009-10 men's and women's basketball seasons, spiking attendance at men's games by 25 percent. They gave away laptop computers, flat-screen TVs and — raffled to a student with perfect home-game attendance — a new car.
"I thought we did some things during B-ball season that helped in terms of the numbers," English said. "I thought that the things we did were fantastic."
On top of the contests and raffles, the athletic department wants to get Eagles coaches and players out in the community. The football team will march in Ypsilanti's Heritage Festival parade, and the coaching staff will host its second-annual football clinic for women. The clinic will be on July 24, and fans can register at emueagles.com.
"The clinic went great last year, and we gained a lot of support and cooperation from the coaches' wives," Gragg said. "We're looking to double attendance from last year, up to 200 women."
Eastern Michigan is looking to bring in big-name opponents. In 2002, Western Michigan hosted Virginia Tech, packing Waldo Stadium with 27,218 fans. And last year, Wyoming hosted Texas, a game that brought in more than 31,000 fans to Laramie, Wyo., more than 12,000 more than the Cowboys' average that year.
In basketball, Eastern Michigan has scheduled Michigan State (2011) and Purdue (2012) to play at its Convocation Center.
"Obviously, those games should be sellouts," Gragg said. "We've only had one sellout in the Convocation Center since 1999. Bringing in a team like that will bring a great deal of exposure to our own programs here on campus. We'll get more media coverage and interest, too."
The Eagles also have a deal with Michigan State in football to play the Spartans in a home game in either 2018 or 2020, and the athletic department is looking into possibly bringing in a BCS-level team before that.
But, after an 0-12 season in 2009, English and the Eagles know the easiest way to get people excited about Eagles football is, simply, winning.
"I think you've got to ply a brand of football that people want to see," English said. "It's a physical sport, and people like that. You want to see a smart, tough team. People want to see a competitive team. The more competitive your team is, the more you can get excited about it."