Posted on
Wed, Sep 15, 2010 : 4:14 p.m.
Eastern Michigan receiver Kinsman Thomas seeks consistency, close isn't good enough and more
By Jeff Arnold
Kinsman Thomas doesn't get wrapped up in his statistics.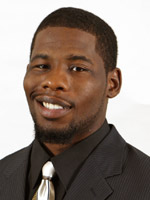 Take, for example, the
Eastern Michigan
sophomore wide receiver's five career touchdown catches, two of which have covered more than 70 yards. Thomas scored twice in the Eagles' 28-21 loss at Miami last week, accounting for 110 of his 133 receiving yards this season.
But Thomas' numbers speak more to his potential as a playmaker rather than his production. Even with a favorable 6-foot-2 frame and the ability to make catches while fending off defensive backs, Thomas is far from a finished product.
And he knows it.
"I just need to keep working hard," Thomas said. "Every day is a work day. That's what I have to do. That's why I'm here."
In 10 career games at Eastern, Thomas has progressed in his route-running technique as well as his ability to read defenses. He doesn't have blazing speed, but Thomas has dedicated himself to recognizing defensive backs' tendencies to use a split-second chance to beat them on a route.
He has learned to read a defender's body language, information he processes before making his move. Unlike in high school in South Carolina, where he was a three-time all-state receiver, relying on his size and big hands as a means toward putting up numbers isn't enough.
"Now, I see that's a big part of football," Thomas said. "It's easy now because you understand defenses and you know what you've got to do. As a receiver, it's all about your technique and wanting it and being tough."
Thomas and Eastern Michigan (0-2, 0-1 Mid-American Conference) face Central Michigan (1-1, 0-1) at 4 p.m. Saturday at Rynearson Stadium.
"I see a guy who is just starting to be what he can be and I want him to be what he can be," Eastern Michigan coach Ron English said. "But I want him to go where he can go quicker than what he's doing. But I want him to be more consistent in his approach, in his effort and being consistent in his preparation.
"But I think he's shown he can be a big-play receiver."
Close not good enough English continues to see improvement in an Eastern Michigan team that has lost two games by a total of 11 points. After surrendering a last-minute touchdown to Army in a 31-27 loss, the Eagles dropped a seven-point decision on the road at Miami. In each case, Eastern was -2 in the turnover battle.
"Is there some frustration? Yeah, but we're going to keep working at it," English said.
Rivalry week
English gets his second shot at Central Michigan, the last team that Eastern beat following a victory in the final game of the 2009 season.
The Chippewas posted a 56-8 win in last year's meeting in Mount Pleasant, and English hopes getting the chance to face off with an in-state rival at home Saturday helps provide some motivation for a team on a 14-game losing streak and that faces No. 2 Ohio State next week.
"I can't tell you how the players are going to respond week-to-week," English said. "I think the natural human tendencies is to be affected by the circumstances. And so if you look it like that, I think playing a rivalry game at home against a very good program can help."
Just for kicks Eastern sophomore punter Jay Karutz was named the MAC's West Division Special Teams Player of the Week, averaging 49.5 yards per punt last weekend against Miami. Karutz landed three of his four punts inside the 20-yard-line with two being downed at the 1-yard line while his fourth effort was a 56-yard punt out of bounds.
Karutz earned honorable mention consideration for the national punter of the week. Karutz, who is from Australia, is in his first season with the Eagles after making a transition from Australian rules football.
Karutz leads the nation in net punting (five punts for 238 yards), giving him a net punt total is 47.4 yards. His 47.6-yard average would be ranked nationally, but he does not have enough attempts to be listed.
Jeff Arnold covers sports for AnnArbor.com and can be reached at (734) 723-2554 or by e-mail at jeffarnold@annarbor.com. Follow him on Twitter @jeffreyparnold.