Posted on
Sat, Oct 30, 2010 : 9:19 p.m.
Eastern Michigan football team stumbles in 42-7 loss to Toledo
By Bison Collins Messink
After showing signs of progress in road games the past three weeks, the Eastern Michigan football team suffered a 42-7 loss to Toledo at Rynearson Stadium on Saturday.
Two weeks ago the Eagles won their first game under coach Ron English, an overtime win at Ball State, and last week they stayed competitive well into the second half on the road against Virginia.
Saturday, Eastern Michigan trailed 15-7 at halftime against the Toledo, but two long touchdown passes for the Rockets at the end of the third quarter put the game out of reach. The Eagles never mustered any threat of a comeback.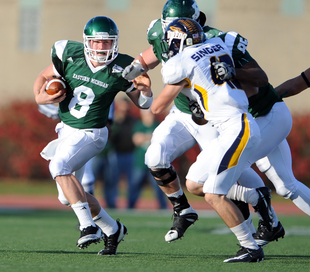 Lon Horwedel | AnnArbor.com
"It's a downer because we all believed we could win the game today," English said. "When you get smacked around like that in the second half, it's disappointing."
The Rockets are 5-0 in the Mid-American Conference and are bowl eligible with a 6-4 record overall.
Eastern Michigan (1-8, 1-4 Mid-American Conference) played well defensively in the first half.
Eastern Michigan ran for just 100 yards in the game, and English was surprised to see that the total was even that high.
"I'd have lost my paycheck on that," he said. "I didn't think we had that many; we didn't block anyone out there.
"The defense showed up," English said. "Special teams did a decent job, but I didn't feel like the offense showed up."
The Eagles' sophomore quarterback Alex Gillett was steady for much of the game, but never spectacular. He was Eastern Michigan's leading rusher with 50 yards on 17 carries, and he finished with 170 yards on 15-of-26 passing. But he threw two interceptions in the second half, both of which led to Toledo touchdowns.
The Rockets' starting quarterback Austin Dantin left the game with an injury in the first quarter, but backup Terrance Owens wasted no time in leading the Toledo offense into the end zone. On his first play from scrimmage he threw a 74-yard touchdown pass on a catch-and-run to tight end Danny Noble.
Owens ended the game with 234 yards passing, and four touchdowns—including touchdown passes of 68 and 53 yards in the second half.
English said he believes the mistakes his team made and the big plays they surrendered were the product of individuals making errors than of team-wide failures.
"Quitting is subtle, or getting distracted is subtle," English said. "Maybe a guy has one bad play, and it affects another guy and he has a bad play. I think it's more of an individual issue than a team issue.
"When you look at our season we've been progressively improving, and we've been competitive for most of the year and in most of the games. But that game (against Toledo) really got away from us."
It is a stated goal for English and the Eastern Michigan program to be competitive in the MAC, and English said that in order to do that they will need to add better depth to the team.
"What's happening to us now is games get out of reach so fast," English said. "It's a combination of us getting fatigued, and that the depth issue shows up when you play good teams, later in the game."
Not helping the Eagles' depth issues on Saturday was last week's suspension of five Eastern Michigan players, including their top running back, Dwayne Priest.
However, English said that he does expect the suspended players to return to the field this season.