Posted on
Mon, Sep 27, 2010 : 1 p.m.
Eastern Michigan self-reports 4 major NCAA violations in women's basketball program, suspends coach, punishes others
By Jeff Arnold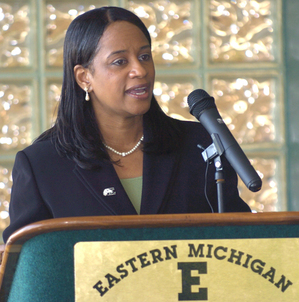 File photo
A 2009-10 season that included a trip to the Women's National Invitation Tournament for the Eastern Michigan University's women's basketball team also involved four major NCAA violations, university officials announced Monday.
The university self-reported four major violations to the NCAA and suspended head coach AnnMarie Gilbert for a month without pay. Several other assistant coaches received letters of reprimand and one is suspended indefinitely. Eastern Michigan assistant coach LaTonya Tate was named acting head coach during Gilbert's suspension.
Other than an acknowledgment it has received the self-report, no communication has been received from the NCAA about the alleged violations, Eastern Michigan President Susan Martin said in a press conference on Monday.
The bulk of the violations concern practice hours at Eastern, which was 22-9 overall last season, 11-5 in the Mid-American Conference. The Eagles won the Mid-American Conference West Division title in her first season after being hired by Gragg to replace Suzy Merchant, who is now the head coach at Michigan State.
Gilbert, whose suspension began Monday, is a former Michigan State assistant coach. Eastern Michigan athletic director Derrick Gragg said Gilbert was remorseful about the violations taking place.
According to the university's report to the NCAA, practices exceeded the daily four-hour limit, sometimes lasting as long as six hours if players watched film. Gilbert, who did not return a phone call seeking comment Monday morning, told university officials she was under the impression that countable hours did not begin until actual skill instruction began.
Players, who were interviewed individually by Eastern Michigan compliance officers, said they routinely arrived at practice at 1:15 p.m. By the time practice, conditioning and film study ended, players told university officials that it was often 7:30 or 8 p.m. before they left.
The report also indicates that evidence suggests that players were instructed to lie by Eastern Michigan assistant coach Darin Thrun once coaches learned compliance officials were examining team practices.
The report states that players were told Thrun would be fired if the truth came out as to how long they had practiced. Thrun reportedly told players to tell compliance officers they practiced two hours and to tell them, "this, this and this." Players were also told to tell officials that they had not watched film or worked out.
Players said they felt like they had been "put in the middle." and told school officials they wanted to tell the truth, but were allegedly by Thrun that if they told the truth, he would be fired.
The investigation began in late July, when an Eastern Michigan player came to the athletic department with complaints about excessive practice, Gragg said. Gragg declined to specify whether the player was currently on the roster.
Gragg said he initiated the internal investigation based on the complaint of the player, saying the university always takes such concerns seriously.
"Anytime you get news like this as an athletic director, you're shocked," Gragg said.
Players were interviewed separately, as were the coaches, and Gilbert was talked to multiple times. Gilbert was interviewed on four occasions, stating in her third interview that she had time to reflect on information she had given previously. She told Gragg she did not understand when countable hours began.
The university found that while the basketball team filled out required forms counting practice hours, the times listed were not accurate, Gragg said.
The investigation found that players practiced during the summer, recruits took part in open gyms and other activities that are not allowed and that "the coaching staff arranged for prospective student-athletes visiting campus to participate in open gyms with current student-athletes and observed their participation" and improper participation by coaches in practices outside of the season.
The athletic department's investigation did not find any instances of EMU's compliance program not working. Gragg said Monday he believed the incident was isolated and that the overage of hours were limited to last season.
"I feel comfortable that the policies and the system are working," Gragg, a former compliance officer himself, said. "This is one of the strongest compliance systems I've been around."
Once the university had the results of the investigation, they took action, Martin said.
"We have taken swift and decisive action in this matter," she said. "We demand the best of ourselves. We are full committed to the rules and policies of the NCAA."
The biggest punishment comes in terms of the number of hours the team will be allowed to practice. The self-imposed sanctions will dock the team six hours a week during the fall and by five hours a week this winter.
Gragg said they followed the NCAA's normal course of action of docking two hours of time for every hour a team was over. Gragg said a post-season ban was never considered.
In addition, the team was placed on probation for two years.
The school will reduce the number of expense-paid recruiting visits from 12 per year to 10 for the next two years. The university also closed recreational/open gym activities for prospects for the next two years.
Thrun has been suspended indefinitely with pay and has, like Gilbert, had his salary frozen for the remainder of the academic year.
Eastern Michigan officials set up a Web site to release information about the violations and university spokesman Walter Kraft said that site would be updated as events happened.
• Download a pdf of Eastern's internal investigation report: NCAA-internal-report.pdf • Download a pdf of AnnMarie Gilbert's letter of reprimand: NCAA-violations_Gilbert.pdf
AnnArbor.com reporter David Jesse contributed to the story. Jeff Arnold covers sports for AnnArbor.com. He can be reached at 734-623-2554 or by e-mail at jeffarnold@annarbor.com. Follow him on Twitter @jeffreyparnold.