Posted on
Thu, Mar 24, 2011 : 11:11 p.m.
Eastern Michigan women's basketball eliminated from WNIT at Syracuse
By AnnArbor.com Staff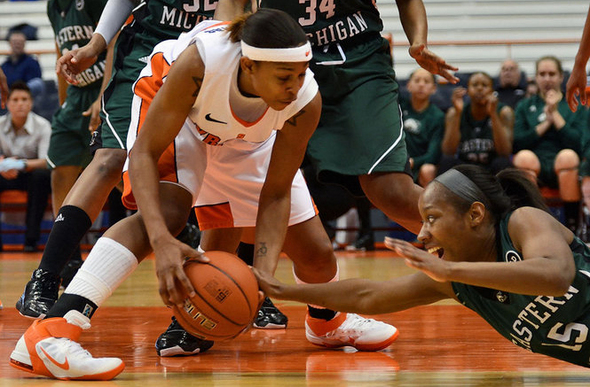 Stephen D. Cannerelli | Syracuse Post-Standard
Eastern Michigan's only lead of the second half was fleeting. The school's most successful women's basketball season in history was over soon after.
Sparked by a late 10-0 scoring run, Syracuse beat Eastern Michigan 72-63 Thursday night in a third-round WNIT game at the Carrier Dome in Syracuse.
After a pair of Paige Redditt free throws put Eastern Michigan ahead 61-60 with 5:16 remaining -- the Eagles' first lead since the game's opening minutes -- the Orange's big run started with an unusual three-point play by junior guard Iasia Hemingway.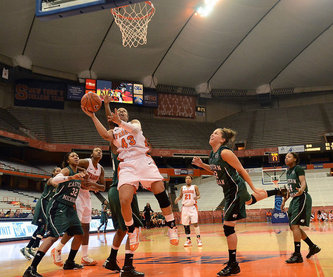 Stephen D. Cannerelli | Syracuse Post-Standard
She made the first of two free throws and put back her own miss on the second for a 63-61 lead with 5:00 left.
Hemingway, who finished with a game-high 29 points, scored 11 of Syracuse's last 16 points and assisted on her team's other two other baskets: a 3-pointer by Elashier Hall with 2:53 left that made it 68-61 and a Kayla Alexander basket that made it 70-61 with 1:28 left.
Eastern Michigan, which scored one field goal over the game's final 8:32, was 0-for-4 from floor with a turnover and allowed four Syracuse offensive rebounds during the Orange's decisive 10-0 scoring run.
After Alexander's basket, Eastern Michigan (24-13) didn't foul Syracuse (25-9) down the stretch. Eagles coach AnnMarie Gilbert said she didn't avoid the typical late-game strategy, but rather her team was too worn out to execute it.
"We did want to foul," she told the Syracuse Post-Standard, "we just didn't. It was almost like we were literally out of gas at the end of the game.
"They were making almost 100 percent of their free throws … (but) it's certainly something that we should have done in hopes that they would miss."
Redditt, a junior forward, scored 22 points to lead the Eagles. Senior guard Sydney Huntley and junior guard Tavelyn James added 12 points apiece.
De'Ja Wills gave Eastern Michigan an early spark, coming off the bench to hit three 3-pointers and score all of her 11 points in the first half.
Kayla Alexander scored 16 points for Syracuse, which will play a WNIT quarterfinal game against Mid-American Conference regular season champion Toledo on Sunday. Eastern upset the Rockets in the semifinals of the MAC tournament.
Eastern ends its season with a school-record 24 wins, which includes the first two postseason victories in program history.