Posted on
Thu, Apr 26, 2012 : 3:46 p.m.
Eastern Michigan women's basketball coaching job a 'dream come true' for Tory Verdi
By Nick Baumgardner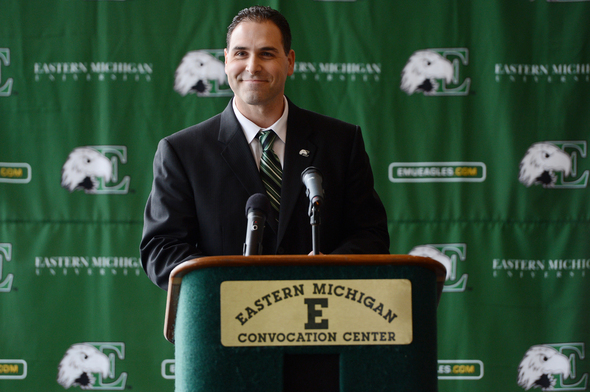 Melanie Maxwell | AnnArbor.com
Each time Tory Verdi has taken another step in his basketball coaching career, he's received a phone call from his father.
When he left a job with the WNBA's Connecticut Sun to be an assistant at Nebraska, his dad called him crazy. When he left Nebraska for a similar position at Kansas, his dad called him crazy.
But recently, when he opted to leave Kansas to become the head women's basketball coach at Eastern Michigan, there was no phone call.
This one made sense.
"No phone calls this time, no thoughts of me being crazy," Verdi said. "For once, we are in agreement.
"Eastern Michigan is a great job, and the best place for me."
Verdi, 39, was officially introduced as EMU's new coach Thursday inside the school's Convocation Center.
The Connecticut native succeeds former coach AnnMarie Gilbert, who resigned from her position with the university earlier this month.
"I have one crack at this," said Verdi, who is about to begin his first college head coaching job. "I'm going to try to get it right and I wanted the right opportunity. I didn't want to take a job just because it's a Division I job and have it be a dead end.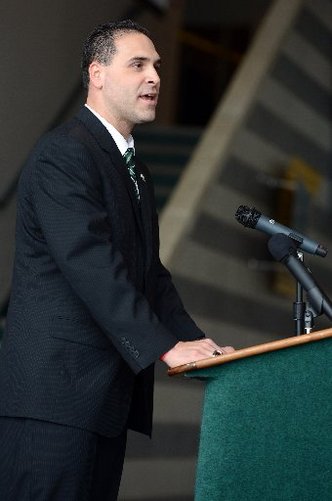 Melanie Maxwell | AnnArbor.com
"Eastern Michigan is a special place. ... It's like a dream come true."
Verdi will inherit a team that won the Mid-American Conference Tournament championship last season, a year that saw EMU advance to its second-ever NCAA Tournament.
But, he'll also take over a program in the midst of an ongoing NCAA investigation.
Verdi acknowledge he was aware of the investigation, but said it didn't stop him from pursuing the opportunity at EMU. He added that, "to my knowledge," EMU doesn't expect any NCAA penalties from the investigation.
"I think once (EMU does its) due diligence, everything will work itself out," said Verdi, who added that he spoke to Gilbert on the phone about the position before accepting. "The steps that were taken by the administration already were sufficient.
"So we don't look for anything else happening in regards to penalties. (But) regardless of what happens down the road, all I can tell you is that I'm very excited about this opportunity and I'm looking forward to moving this program in the right direction."
The NCAA probe began after alleged violations surrounding practice times, voluntary workouts, coaches' participation in voluntary workouts and recruits' participation in open gym times during the 2009-10 season.
EMU self-reported those violations in September 2010 before suspending Gilbert for 30 days without pay.
Gilbert resigned earlier this month after a 94-64 five-year run with the Eagles. On Thursday, EMU athletic director Derrick Gragg said he could not comment on the investigation, as it's currently ongoing, and wouldn't talk much about Gilbert's departure.
"AnnMarie resigned to move on for and pursue other opportunities," Gragg said.
As for Verdi, Gragg said he was the standout candidate among a finalist pool that included six coaches.
Five of those six coaches, according to Gragg, had previous head coaching experience. And three of them are current head coaches.
Verdi's overall body of work as an assistant, along with his recruiting ties to the state of Michigan, eventually separated him from the pack.
"It was his pedigree, he has a lot of experience and he's very well-rounded," Gragg said. "He's been to the NCAA Tournament, a WNBA assistant coach with a team that went to the (conference) finals. And in the last few years with all the success at Nebraska and Kansas.
"It's good when a person can come in and things aren't totally foreign to him, having recruited Detroit and Michigan, he knows a lot of the coaches AAU-wise and the high schools (in the state) and that's very important."
During his stint as an assistant at Kansas (2010-12), Verdi's main recruiting state was Michigan. In that time, he was able to pull Detroit Renaissance High School's Asia Boyd, the second-ranked player in the state, into the Jayhawk program.
He was part of Kansas' Sweet 16 squad in 2012, as well as Nebraska's 32-2 Sweet 16 run in 2009-10.
He says his style of play is mainly up-tempo, and will rely on a defense that applies full-court pressure for "the entire game."
As for next season, Verdi will have to find a way to replace the school's all-time scoring leader, Tavelyn James. James finished last season with a scoring average of 23.8 points per game.
EMU will also have to replace departed senior Paige Redditt, who averaged 10.6 points and 8 rebounds per game a year ago.
Verdi says EMU has one scholarship available for next season, and he has yet to speak with the school's current signing class.
However, he's hardly getting himself into a rebuilding situation.
EMU has advanced to three straight postseason tournaments, and has a foundation Verdi says he can build on.
"It's not a rebuilding job, I've done that before," he said. "We have a team here that did something special. We lost a lot, and the players realize that.
"But I'm excited to work with them, there's no reason we can't be competitive next year. ... Yes, we lost a lot, but we have a lot to gain. They're excited about it, I'm excited about it and it's going to be fun."
Nick Baumgardner covers Michigan sports for AnnArbor.com. He can be reached at 734-623-2514, by email at nickbaumgardner@annarbor.com and followed on Twitter @nickbaumgardner.