Posted on
Sat, Nov 19, 2011 : 5:21 p.m.
Eastern Michigan's bowl chances take hit with 28-20 loss at Kent State
By AnnArbor.com Staff
The Eastern Michigan football team's chance for a bowl bid took a severe hit Saturday afternoon when Kent State beat the Eagles 28-20.
The Golden Flashes scored on a 70-yard pass from Spencer Keith to Tyshon Goode with 6:40 left in the game. That duo also combined on a two-point conversion pass to provide the final margin of victory in front of 10,253 at Dix Stadium in Kent, Ohio.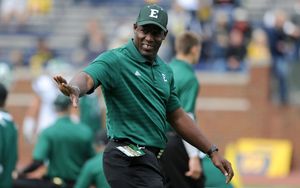 Eastern Michigan (6-5, 4-3 MAC West) drove to the Kent State (5-6, 4-3 MAC East) 19-yard-line on its ensuing possession, but an interception in the end zone by the Golden Flashes' Sidney Saulter ended the drive with 1:47 left in the game.
The Eagles now must win at Northern Illinois (8-3, 6-1 MAC West) at 11 a.m. Friday to become bowl eligible. Being bowl eligible does not assure an invitation.
The Huskies will be playing for a spot in the MAC Championship game.
"We're going to regroup, and we play in six days so we will be ready to play in six days," Eastern Michigan coach Ron English said. "We still have one game to play and we're going to do our best to prepare for that game."
Kent State's long, game-winning touchdown pass accounted for nearly one-quarter of the Golden Flashes' 294 total offensive yards.
"Coach (Darrell) Hazell was in the huddle and looked at me and told me 'Ty, I need you to make a play,'" Goode said. "In the huddle, my play was called and I knew i was getting the ball and Spencer made a great throw and I got right under it and the rest is history."
The Eagles had a big play of their own. An 83-yard punt return by Demarius Reed put Eastern Michigan ahead 19-14 early in the third quarter. The Golden Flashes reclaimed the lead late in the quarter with a pair of Freddy Cortez field goals.
Kody Fulkerson's 40-yard field goal two minutes into the fourth quarter gave Eastern Michigan a 22-20 lead.
Fulkerson kicked a pair of first quarter field goals for a 6-0 EMU lead and a 32-yard run by Javonti Green - the Eagles' lone offensive touchdown - made it 13-0 with 1:50 remaining in the opening quarter.
Dominique Sherrer led the Eagles with 136 rushing yards on 24 carries. Alex Gillett was 8-of-16 passing for 84 yards and two touchdowns.
Kent State got rushing touchdowns from Traylon Durham (18 carries, 52 yards) and Keith in the second quarter to lead 14-13 at halftime.