Posted on
Sat, Dec 12, 2009 : 10:17 p.m.
Eastern Michigan's go-to players clutch in win over James Madison
By Jeff Arnold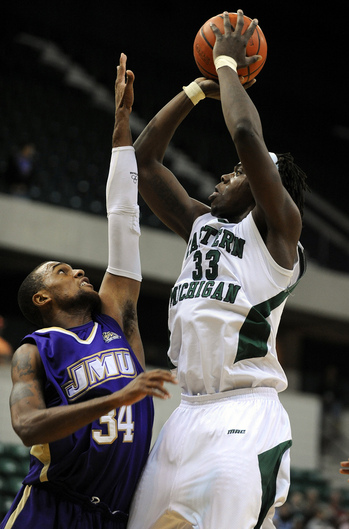 Twice this week, Eastern Michigan men's basketball coach Charles Ramsey had concerns over the practice habits of his leading scorer.
If Brandon Bowdry didn't play well on off-days, Ramsey reasoned, the junior forward certainly wouldn't produce when things mattered.
For the first 20 minutes Saturday night, Bowdry validated his coach's concerns. He lacked focus and scored only seven points in the first half.
"I think it had a little shock value and embarrassed him a little bit," Ramsey said. "I think he has a heart, he has a conscience and he went straight right to it and came out and he produced."
Bowdry scored on back-to-back possessions to start the second half and established himself as the performer the Eagles needed. He finished with 20 points and 14 rebounds in a 75-64 Eagles' victory at the Convocation Center.
He also had some back-up.
Senior guard Carlos Medlock scored 20 points, 6 of which came on consecutive 3-point field goals that gave the Eagles (6-3) a 66-60 lead with 2:46 remaining. Antonio Green rounded out Eastern Michigan's balanced scoring attack with 15 points.
"Being the leader of the team, I had to step up and make big shots," said Medlock, who also had eight assists. "I just wanted to be aggressive and luckily, I got wide-open shots. I just had to knock 'em down."
In all, Eastern Michigan connected on 10 3-point field goals. The outside shots opened up when James Madison (4-4) began double-teaming Bowdry after he started the second half with the hot hand. 
For Bowdry, the second-half turnaround was simply a matter of living up to expectations.
"I just came out here (in the second half) and did what I had to do," he said. "That just really got my momentum going and gave me confidence. It was better off for me to start if off early and being dominant (in the post) opened up other things (offensively) throughout (the second half)."
James Madison, led by Julius Wells' 19 points, got as close as 60-58 with 4:13 remaining. That's when Medlock took over, scoring eight straight points for Eastern to open up Eastern's cushion. The Eagles finished the win off from the free-throw line, bouncing back from a lopsided loss at Ohio State a week ago.
Eastern now faces another week-long sabbatical before resuming its season at Georgia State. While Ramsey saw a bit of rust from a week without game competition, he'll take the results - especially with his team playing three of its next four games at home.
"If we can just win at home and then be competitive on the road," Ramsey said, "We'll be OK."
Jeff Arnold covers sports for AnnArbor.com. He can be reached at jeffarnold@annarbor.com or 734-623-2554.Follow him on Twitter @jeffreyparnold.