Posted on
Wed, Nov 25, 2009 : 10:06 a.m.
Eastern Michigan's Ron English not distracted by prospects of winless season
By Jeff Arnold
Ron English has endured his share of sleepless nights, struggling to get to the bottom of the issues that plague his Eastern Michigan football team.
He's not so bothered by the numbers - specifically the zero in the win column this season - as much as he is by habitual mistakes.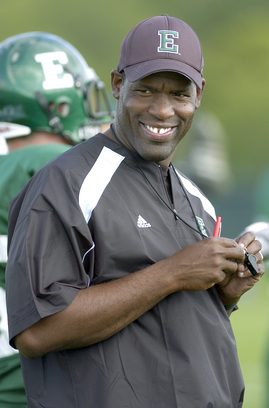 English sounds disgusted when he talks of penalties that kept his defense on the field, turnovers and the lapses in concentration that have led to big plays by the opposition.
"It's amazing - it's almost like you to try and lose this many games - it's hard to lose this many games and so you put the focus on something else," English said Tuesday. "I have so much to do that it behooves me not to get distracted by what's happened so far."
The Eagles close the season Friday at Akron (2 p.m., ESPNU), hoping to avoid becoming the second team in school history to finish a season without a victory. In 1981, Eastern finished 0-11 during a four-year 3-38-1 stretch that eventually turned around under
Jim Harkema
.
The thought of a winless season doesn't sit well with English. But both the coach and and athletic director Derrick Gragg are committed to fixing the school's ailing football program.
Like any of the school other athletic programs, Gragg's goal is for English's football program to finish within the top half of the Mid-American Conference. That hasn't happened in football in years and certainly hasn't happened in English's first season.
But Gragg feels English remains the right man for the job and given some time and some success recruiting, Gragg believes things will change.
"When you go winless, obviously, there's always going to be concern," Gragg said Wednesday. "And there's a sense of urgency that we have for our football program. The goal (of finishing in the top half of the MAC) hasn't changed. There's a sense of urgency but we need to be patient."
In English's first season, the Eagles have come close to posting victories against Ball State and Northwestern. But Eastern has lost by at least 14 points seven times.
Following last week's road loss at Toledo, English challenged his players, asking if they'd choose to show up against Akron (2-9) or if they would allow the disappointments of the past 11 weeks to define where they stood as a program.
English said he won't allow his team's winless record stand in the way of him doing his job.
"I'm not measuring this program by the wins and losses at this time. I'm frustrated by the wins and losses at this time," English said. "We want to win every game, but we didn't play well enough to win those games.
"But you want to lose games because a guy beat you physically on a play. You don't want to lose games because you commit roughing the passer (penalties) or because you jump off sides or because you turn the ball over - all those things. That just comes with having a sense of urgency and an attention to detail to those things in practice because you understand from a competitor's standpoint, if I don't execute in those ways, I'm not going to have success."
Until his players understand everything they need to do, English insists nothing will change. He believes the desire to win hasn't diminished. 
But with only one game to somewhat salvage what has become a forgettable season, English realizes that he can only do so much in such a short period of time. The bigger fix will come through recruiting and focusing on fundamental football. He believes he has players who want to be part of changing Eastern Michigan's culture of losing football.
Now, English said, it's up to them to decide how quickly they want to turn things around. In the meantime, English will continue to do his job and wait.
"I can say I'm patient, but in reality, there are fits and moments of anger - I'm not that patient," English said. "If you get paid to do a job, you have to do your job. People may understand where this program is at, but in a couple years, there's not going to be much patience and there shouldn't be.
"That's why we can't waste time."
Jeff Arnold covers sports for AnnArbor.com. He can be reached at jeffarnold@annarbor.com or 734-623-2554.Follow him on Twitter @jeffreyparnold.