Posted on
Tue, Aug 6, 2013 : 3 p.m.
Eastern Michigan's Ron English on preseason hot seat list
By Kyle Austin
Nearly a month after Sports Illustrated named Ron English one of the five worst coaches in college football, the magazine has placed the Eastern Michigan head coach on another list this week.
This one isn't good either.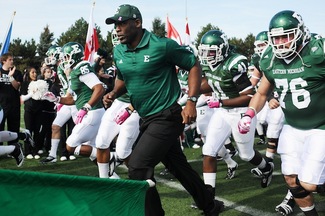 AnnArbor.com file
English made SI.com's "Hot Seat Watch" Monday, falling into a "Group A" category on the website. He's one of three in that category, along with Iowa's Kirk Ferentz and USC's Lane Kiffin.
"Taking away English's 6-6 campaign in 2011, he's won just four games over three years," SI's Martin Rickman writes. "English has the intensity required for the job, and he has a vision for what he wants the program to be. But if the Eagles win two games for the third time in four seasons (2-10 in 2010 and '12), he likely won't be around to see that vision through."
English is entering the last year of a five-year contract. The Eagles finished 2-10 last year, after going 6-6 the year before.
He addressed job speculation at MAC Media day last month, saying after 21 years in coaching that he's "almost immune" to the uncertainty of it. New Eastern Michigan athletic director Heather Lyke said at MAC Media Day that English and the football program as a whole will be evaluated after the season.