Posted on
Mon, Apr 16, 2012 : 5:02 p.m.
Eastern Michigan's Tavelyn James, mentioned as a top prospect, not selected in WNBA Draft
By Rich Rezler
Tavelyn James, the all-time leading scorer in Eastern Michigan women's basketball history, was not selected in Monday's WNBA Draft.
Considered a top prospect, James was projected as high as the eighth pick by the Washington Mystics and No. 12 by the Minnesota Lynx in mock drafts.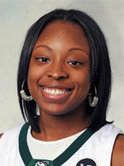 EMU Athletics
James, a 5-foot-5 shooting guard, is the EMU record holder for points in a career (2,417) and career 3-pointers (287) — both by a sizeable margin — and third on the all-time Mid-American Conference list in both categories. She also became the first EMU player to be named the MAC Player of the Year.
In March, former Eastern Michigan coach AnnMarie Gilbert said it's a "long shot" for a player of James' size to have a professional playing career, especially at her natural shooting guard position. But she added that not all players her size have the same heart and quickness. The time she spent as a point guard with USA Basketball at the 2011 Pan-American Games will help, too.
"She has a body of work that I think is going to be respected at the next level," Gilbert said. "I think she has to be able to guard a lot better than she does here, and guard players much bigger than her.
"But her defense has improved, her ball-handling has improved, her mid-range shot has improved. Her stroke is as good as anybody's. I think (a career in the WNBA) could definitely be realistic."
James could still sign a free-agent deal to become just the second Eagle to be picked up by a team in the 15-year history of the professional league. Ryan Coleman signed a free-agent training camp deal with the Detroit Shock in 2006, but never saw action in a regular season game.