Posted on
Thu, Feb 18, 2010 : 7:54 p.m.
Ice dancers Emily Samuelson, Evan Bates skate 14th on Friday; Davis-White are 17th
By AnnArbor.com Staff
Ice dancing competition begins Friday at the Vancouver Winter Games and includes the Ann Arbor Figure Skating Club pair of Emily Samuelson and Evan Bates. Samuelson and Bates will skate 14th.
Canada's Tessa Virtue and Scott Moir will be the last of 23 pairs to compete in ice dancing's compulsory program. Americans and University of Michigan students Meryl Davis and Charlie White will skate 17th.
Friday's figure skating start list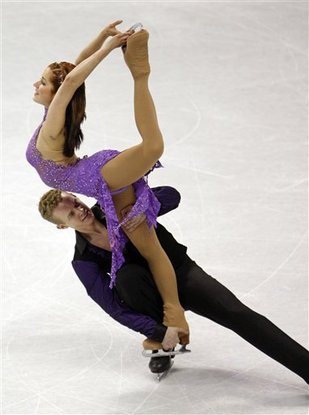 1. Anna Cappellini and Luca Lanotte, Italy.
2. Penny Coomes and Nicholas Buckland, Britain.
3. Christina Beier and William Beier, Germany.
4. Ekaterina Bobrova and Dmitri Soloviev, Russia.
5. Anna Zadorozhniuk and Sergei Verbillo, Ukraine.
6. Huang Xintong and Zheng Xun, China.
7. Allison Reed and Otar Japaridze, Georgia.
8. Kamila Hajkova and David Vincour, Czech Republic.
9. Nora Hoffmann and Maxim Zavozin, Hungary.
10. Cathy Reed and Chris Reed, Japan.
11. Irina Shtork and Taavi Rand, Estonia.
12. Isabelle Delobel and Olivier Schoenfelder, France.
13. Vanessa Crone and Paul Poirier, Canada.
14. Emily Samuelson, Novi and Evan Bates, Ann Arbor
15. Alexandra Zaretsky and Roman Zaretsky, Israel.
16. Nathalie Pechalat and Fabian Bourzat, France.
17. Meryl Davis, West Bloomfield and Charlie White, Ann Arbor
18. Oksana Domnina and Maxim Shabalin, Russia.
19. Jana Khokhlova and Sergei Novitski, Russia.
20. Tanith Belbin, Kirkland, Quebec and Benjamin Agosto, Chicago.
21. Federica Faiella and Massimo Scali, Italy.
22. Sinead Kerr and John Kerr, Britain.
23. Tessa Virtue and Scott Moir, Canada.