Posted on
Sun, Sep 9, 2012 : 5:31 a.m.
EMU alumni happy to see school bring back Huron logo, even if in limited capacity
By Matt Durr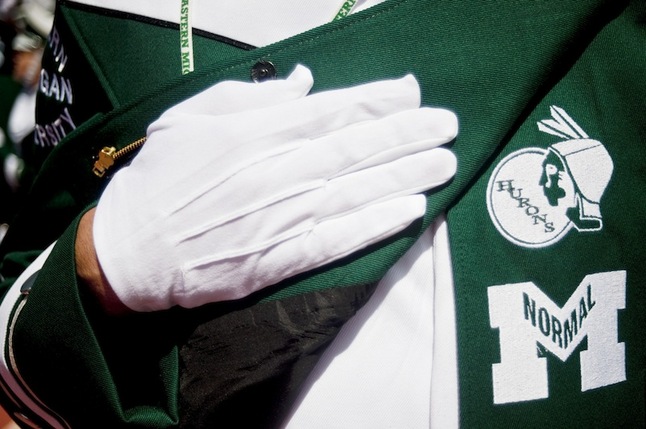 Eastern Michigan University
graduate
John Evans
will always be proud of his school. And while it's been 21 years since the mascot change at his alma mater, Evans says he will always be a Huron, not an Eagle.
"I didn't support the university after they went to the Eagles, because I graduated as a Huron and the Hurons didn't have a problem with the university using the mascot," Evans said in reference to members of the Native American tribe expressing those beliefs in the past.
But when EMU announced that the marching band would be wearing the old Huron logo during the football team's home opener Saturday against Illinois State, Evans (who graduated in 1989) was happy to see the return of the symbol he remembers from college.
"Bringing back the Huron on the band uniform, I think it's showing respect to all the past students and to the current students. It's bringing everybody in," Evans said.
Other alumni also welcomed the return of the old logo on Saturday.
"I realize that they're not going to go completely back to the Hurons, but its nice that they recognized it a little more out in the open," said 1995 graduate Mike Nielson who started taking classes at EMU in 1974.
Joseph Tobianski | AnnArbor.com
Using the Huron logo was done so in an effort to appease alumni that have been unwilling to donate to the school since the change was made in 1991.
Band members marched with the Huron logo on the inside of their jackets on Saturday. The logo, which accompanied the school's original "Normalites" logo on the jacket, was not visible when the uniforms were fastened.
It's a step in the right direction according to some alumni, but it's too early to tell if it will work.
"That's yet to be seen," Nielson said. "It's a good start."
While some older alumni see the logo as a good thing, some current students and recent graduates seemed split on the issue.
"I think its kind of honoring the Huron tribe and I think that's a good heritage," said senior Kenny Barrett.
Barrett also said that he wouldn't mind if the football team donned throwback uniforms with the Huron logo on special occasions.
"That would be sweet and that would get a lot of people here for that. And a lot of alumni would come back," Barrett said.
Recent graduate Marc Carnacchi sees things a bit differently.
"I feel like I want those alumni back at Eastern, but I don't want them to only be here if they're only going to be Hurons," Carnacchi said. "I think they should just support the university no matter what, regardless of what the logo or mascot says. We all went to Eastern Michigan and that's what really matters."
Matt Durr covers sports for AnnArbor.com.