Posted on
Tue, Nov 29, 2011 : 10:54 a.m.
EMU basketball coach Rob Murphy returns to Syracuse as Orangemen deal with child molestation scandal
By AnnArbor.com Staff
Eastern Michigan basketball coach Rob Murphy's homecoming trip became significantly less joyful over the weekend.
Murphy spent seven years on the Syracuse bench working as an assistant coach alongside associated head coach Bernie Fine, who was fired Sunday after 10 days of revelations about child molestation accusations against him.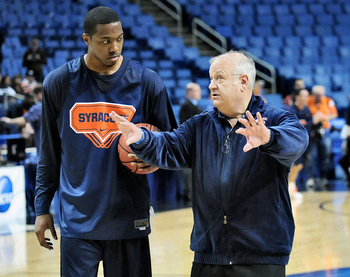 Syracuse Post-Standard
Two former Syracuse ball boys were the first to accuse Fine, who has called the allegations "patently false." And a third man came forward last week, accusing Fine of molesting him nine years ago.
In the No. 4-ranked Orange's first game since Syracuse chancellor Nancy Cantor fired the 36-year assistant coach, they host another former assistant.
When Murphy left Syracuse for Eastern Michigan in April, he was emotional about leaving Hall of Fame coach Jim Boeheim. Now, he returns to the Carrier Dome for a 7 p.m. game tonight amid calls for Boeheim to be fired.
Boeheim, who last week called the first two Fine accusers liars, issued a statement Sunday night expressing regret for his remarks and saying he believed "the university took the appropriate steps" in firing Fine.
Naturally, focusing on basketball has been a challenge for the Orange. From Syracuse.com:
Last week, the Orange played three games without Fine on the bench after the university placed him on administrative leave. During those contests, there was a strong presumption of innocence. While Fine's case has a long way to go before it reaches a court of law, the university's action in firing him has cast a pall over the program.

The Syracuse players practiced at the Melo Center on Monday, instead of at the Carrier Dome, and the players were shielded from the squadron of television trucks idling in the adjacent parking lot.

Tonight, however, the Orange (6-0 and ranked fourth in the country) will be on full display as it hosts Eastern Michigan (4-2) at the Dome.

"Once the adrenaline starts flowing, they'll be able to focus," said former Syracuse player Howard Triche, whose nephew Brandon starts at guard for the Orange. "You can't multi-task while you're playing. In general, when you have something heavy weighing on your mind, once you're playing ball, it escapes your mind."
Murphy isn't the only member of the EMU program with strong ties to Fine and Syracuse. Former Orange backup center DaShonte Riley followed Murphy to Eastern Michigan and is sitting out the season due to NCAA transfer rules.
EMU director of basketball operations Victoria Sun is a 1997 graduate of Syracuse and director of player development Jake Presutti played basketball at Syracuse and was also a graduate manager for the Orange.
Tuesday's game is the first of nine straight road game for the Eagles.
The Associated Press contributed to this report. Complete coverage of the Bernie Fine scandal is available at Syracuse.com.