Posted on
Fri, Nov 16, 2012 : 3:27 p.m.
EMU basketball player James Still suspended after pleading guilty to felony assault
By Pete Cunningham
The Eastern Michigan University men's basketball team will be without James Still for its game on Friday against Eastern Illinois and possibly the rest of the season after the 6-10 junior forward pleaded guilty to felony assault on Tuesday in Rhode Island.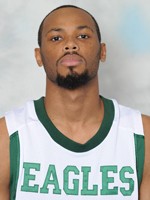 The charge stemmed from an incident in April 2010 when Still, then a freshman at Providence College, and Providence teammate Johnnie Lacy
attacked a fellow student, Yerkin Abdrakhmanovon, on campus.
Still, 21, and Lacy were subsequently kicked off of Providence's team and suspended from the school. Abdrakhmanovon suffered serious injuries as a result of the assault including a broken nose and eye socket.
According to a report by the Detroit Free Press, Lacy took a plea deal in May and will serve three years of a 10-year sentence. Still rejected a plea deal in May, but on Tuesday pleaded guilty in court. He is scheduled to be sentenced on Jan. 8.
EMU released a statement on Friday announcing Still's suspension from game competition. Still had played a total of 28 minutes in Eastern's first two games scoring six points and grabbing seven rebounds.
"The Eastern Michigan University Department of Intercollegiate Athletics was aware of the matter when Still was admitted to the University in the fall of 2012 based upon numerous positive recommendations and after he had earned an associate degree from Henry Ford Community College," the statement reads. "EMU continues to monitor the situation, but following University policy no further comment will be made on the ongoing legal process."
After leaving Providence, Still, a Detroit native, enrolled at Henry Ford Community College in Dearborn where he averaged 15.8 points, 12.6 rebounds and 5.2 blocked shots last season.
EMU's student athlete policy handbook states that an athlete charged with a felony is to be suspended from practice and playing until the charges are dropped, dismissed or otherwise resolved and that any athlete convicted of a felony is to be permantly dismissed from the team, the Free Press reported.
-The Associated Press contributed to this report. Pete Cunningham covers sports for AnnArbor.com. Contact him at petercunningham@annarbor.com. Contact him on Twitter @petcunningham.