Posted on
Wed, Aug 29, 2012 : 2:52 p.m.
EMU basketball schedule includes games at Michigan, Kentucky and Syracuse
By Rich Rezler
The Eastern Michigan men's basketball team will play 17 games in its Convocation Center next season, the most home games the Eagles have played since 1977-78.
But the Eagles' road schedule is where their marquee opponents can be found.
According the schedule released by the university on Wednesday, EMU will travel to face three teams ranked among the top 10 in ESPN's latest preseason poll: No. 10 Syracuse on Dec. 3, No. 5 Michigan on Dec. 20 and No. 2 Kentucky on Jan. 2.
The game against Michigan will be played at 8:30 p.m. and televised by the Big Ten Network. The Wolverines are 26-2 all-time against Eastern Michigan, with the last meeting resulting in a 91-60 Michigan victory on Dec. 13, 2008.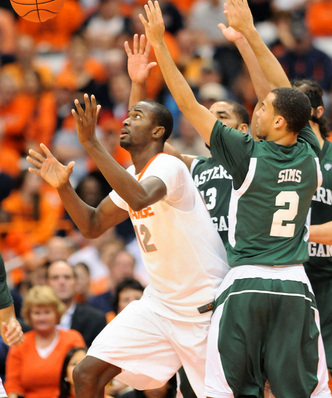 Defending national champion Kentucky
announced its game against the Eagles
in July.
"Not every school gets an opportunity to play the reigning national champs so the Kentucky game is a great one for our program," EMU coach Rob Murphy said in a release. "Getting a chance to play the best competition along with a program with so much tradition is what most players dreams of."
EMU played at Syracuse last season, losing 84-48 to the Orange in a homecoming game for Murphy. He was an assistant coach on Syracuse coach Jim Boeheim's staff for seven years before accepting the head coaching job at EMU.
Eagles center DaShonte Riley, who played his freshman season at Syracuse before following Murphy to Ypsilanti, will play against his former team for the first time. He was ineligible to play in last year's game.
Not all of the Eagles' big-name games will be played on the road. Big Ten member Purdue will visit the Convocation Center on Dec. 8.
The Eagles will kick off the season with the inaugural "EMU Iceman Classic," named for EMU Hall of Fame player and NBA great George Gervin. Gervin is expected to attend the four-day event, which includes Rochester College, Eastern Illinois, IPFW and Texas Pan-American.
"The Ice Man Classic will be a great tournament to kick off our season," said Murphy. "We look forward to Mr. Gervin's return to the Convocation Center along with our students, fans and community."
The Eagles finished 14-18 overall and 9-7 in the Mid-American Conference last season, winning the MAC West Division championship.
Murphy, the reigning MAC Coach of the Year, recently confirmed his status with the program after speculation that he was leaving after one season for a position with the Orlando Magic.