Posted on
Sat, Sep 15, 2012 : 6:46 p.m.
EMU drops to 0-3 after disastrous second quarter against Purdue
By Matt Durr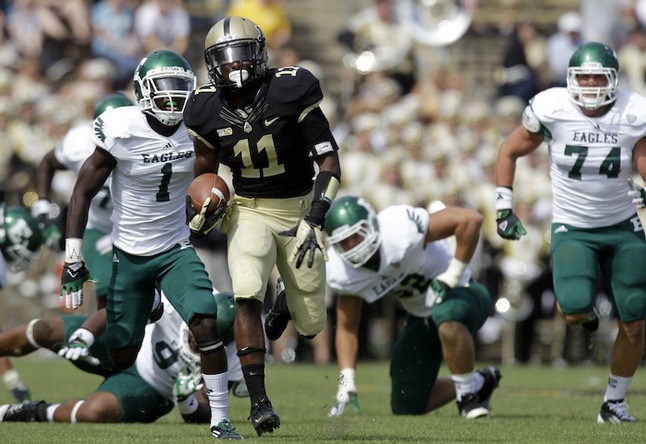 Photo courtesy of AP | Michael Conroy
With just over nine minutes left in the first half of Eastern Michigan's game against Purdue, the Eagles trailed 13-9 and had the Boilermakers backed up to their own half-yard line.
By halftime, the Eagles trailed 33-9 and were well on their way to their third consecutive loss to open the season, falling 54-16 to Purdue at Ross-Ade Stadium in West Lafayette, Ind.
"They have a group of extremely talented guys," Eastern Michigan coach Ron English said. "I have coached against them before, and that is the most talented Purdue team I have coached against."
The Eagles fell behind 13-0 in the first quarter but rallied to cut into the deficit after Pudge Cotton intercepted a Caeb TerBush pass on the left sideline and scampered his way to a 28-yard return for a touchdown.
"He did a nice job in terms of moving his feet and covering the guy and then ended up getting the interception for the touchdown. I think he showed some improvement today," English said on Cotton's performance.
On the next Purdue drive, Cotton recovered a fumble at the Purdue 32, giving the Eagles excellent field-position and a chance to tie the game. The offense stalled before Saline native Dylan Mulder kicked a 23-yard field goal to make it 13-9.
On the ensuing kickoff, Purdue's Raheem Mostert fumble the kick out of bounds at the Purdue half yard line.
After forcing the Boilermakers into a third and eight, the Eagles defense gave up a 23-yard pass. Seven plays later TerBush found Akeem Hunt for a 51-yard touchdown.
"We have a lot of team speed," Purdue head coach Danny Hope said. "We got the ball in our fastest playmakers' hands. We're good that way; that was part of the plan. We went out and recruited class sprinters."
Purdue never looked back, scoring 34 unanswered-points.
The Boilermakers added two more touchdowns before the half including an 87-yard rushing score by Brandon Cottom.
"I just saw a hole open up and the linebacker slide down and I got him to miss," Cottom said. "I didn't feel like they could catch me, but I was running as fast as I could."
Hunt added a 56-yard run early in the third quarter. He finished the game with 106 yards rushing on four carries and one reception for 50 yards and two total touchdowns.
Purdue ran for 391 yards on the day and six touchdowns, by six different players.
"Even though we didn't play our best, we beat them like we were supposed to," Hope said.
After struggling in the first two games of the season, the Eagles running game was effective, gaining 169 yards and accounting for touchdown. Dominique Sheerer led EMU with 73 yards on 12 carries. The offense as whole managed 313 yards of offense.
While the running game returned to form, senior quarterback Alex Gillett struggled once again and was pulled in the third quarter after throwing his third interception of the game. He finished the game 9-of-15 passing for 66 yards to go along with the three interceptions.
Gillett was replaced by sophomore Tyler Benz who didn't fair much better finishing with 78 yards passing on 5-of-14 passing. English said the switch at quarterback was planned however.
"We want to get Tyler some reps, and keep developing both guys, we're gonna need them," English said.
English said that finding the right mix of guys would be a key for the Eagles going forward.
"I think our focus is back where it needs to be, but we need to get a lot better. I just feel like we've got to find the (players) at some positions on the team that allow us to win," English said. "Right now we're seeing some guys that aren't allowing us to win. We just got to find the right guys and make sure they're in there.
"I do think our team is back listening, I do think they're back wanting to play hard and having some pride about who they are."
-- The Associated Press contributed to this report.
Matt Durr covers sports for AnnArbor.com.