Posted on
Thu, Oct 28, 2010 : 10:26 a.m.
Eastern Michigan football coach Ron English suspends five players, citing 'poor decisions'
By Jeff Arnold
Ron English doesn't have a lot of rules for his Eastern Michigan football players.
But when the rules he has are broken, there are consequences, which led English to indefinitely suspend five players - including the Eagles leading tackler Tim Fort and senior running back Dwayne Priest, who led Eastern with five touchdowns this season.
English declined to go into specifics of why the players were suspended, saying they broke team rules.
"There are some things you can be lenient about and some things you can't," English said Thursday morning. "But rules are in place for a reason."
The list of suspended players - which included four seniors - involved sophomore linebacker Steve Brown, senior wide receiver Tyrone Burke and senior defensive back Latarrius Thomas.
English said the players will continue to practice and will return when he decides they are ready.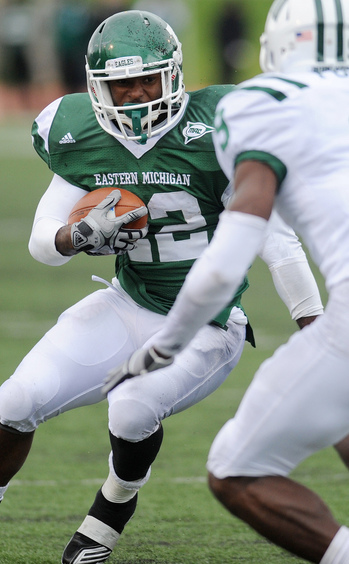 Melanie Maxwell | AnnArbor.com
Fort, a senior linebacker, leads the Eagles with 68 tackles, four tackles-for-loss and three forced fumbles. Priest has rushed for 378 yards and five touchdowns. Burke is the team's third-leading receiver with 17 catches.
Thomas was expected to make an impact for Eastern this season after transferring from Louisville. But he had only appeared in two games this season, starting both times.
The Eagles (1-7, 1-1 MAC) are scheduled to host Mid-American Conference West Division opponent Toledo Saturday at 4 p.m. in Rynearson Stadium. The Eagles snapped an 18-game losing streak two weeks ago in an overtime win at Ball State. Eastern is an 11-point underdog for Saturday's game.
While the suspended players will be expected to practice and help the team prepare for opponents, English said the most painful part of the punishment - especially for the players - is not being able to play.
"You feel bad for the players, but they have to live with the fact that they let the team down," English said. "These kids are disappointed and the team is disappointed, but we're going to march on. But they made poor decisions and sometimes when you make a poor decision, it affects you."
Jeff Arnold covers sports for AnnArbor.com and can be reached at (734) 623-2554 or by e-mail at jeffarnold@annarbor.com. Follow him on Twitter @jeffreyparnold.