Posted on
Fri, Oct 19, 2012 : 5:40 a.m.
Eastern Michigan football hopes to duplicate last week's offensive output against Army
By Matt Durr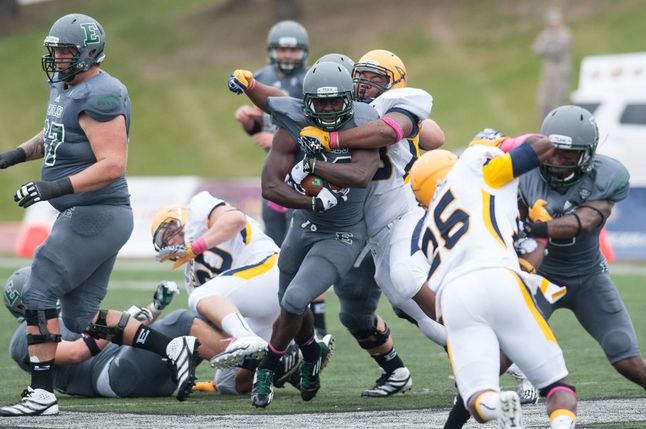 Courtney Sacco | AnnArbor.com
More than 600 yards of offense and an NCAA-best rushing total out of its running back is normally enough for a team to have some momentum heading into the next week's game.
That's not the case for the Eastern Michigan football team which lost in a shootout to the Toledo Rockets last week 52-47, and fell to 0-6 (0-3 Mid-American Conference) on the season.
Head coach Ron English said he was pleased with his team's offensive game plan that helped the team gain 624 yards of offense last week.
"What I was really interested in was one, simplify what we do a little bit so that the guys don't have to think, and two, designing plays to get the ball to the guys that can make plays," English said during his weekly teleconference.
With the Army Black Knights (1-5) visiting Rynearson Stadium on Saturday (1 p.m., ESPN3), English said his team must continue those efforts to get its win of the season.
"I love the way they come up front. They really get after the quarterback," English said. "So for us, it's about us being able to comeback and really solidify who we are offensively and prove that we can continue to move the ball and score points and that we can be the offense that we thought we would be going into the season."
Sophomore Bronson Hill was the catalyst for the offense, rushing for 283 yards on the ground, the largest single-game rushing total by a running back in college football this season and the second most by a running back in program history. Hill also scored four touchdowns.
Hill's development has been a slow process according to English, but he's happy to see the young running back excel once he was given a chance.
Hill had just seven carries for 80 yards on the season coming into the Toledo game.
"He was not a highly recruited guy because he didn't play a lot of high school football," English said. "He's finally developing into a guy who is running the ball better and knowing where to go with it a little better and taking it there and therefore is just ready to play."
In addition to Hill, fellow sophomore Tyler Benz posted his best day, passing for 301 yards on 18-of-27 passing, two touchdowns and one interception.
As well as the offense played, the defense took another step back against Toledo, allowing more than 600 yards of offense and another touchdown on special teams. English said his team must correct those mistakes against Army in those two phases of the game.
"Defensively we've struggled with consistency. We'll play a lot of good snaps and then we'll play some bad snaps. There are going to be some one-on-ones where guys have to make one-on-one tackles," English said.
Army enters the game with the top rushing offense in college football, averaging 385.2 yards per game on the ground. Utilizing an option attack, the Black Knights offense can reek havoc on a defense unaccustomed to seeing the style.
English said his players must trust their eyes on the field Saturday and study the Army blocking schemes in order to limit the effectiveness of the ground game.
Running backs Raymond Maples, and Larry Dixon, along with quarterback Trent Steelman form a three-headed monster for the Knights, combining for 1,742 yards and 14 touchdowns on the ground as a trio this season.
On defense the Knights surrender close to 240 yards a game on the ground, so Hill and the rest of the Eagles' ground attack should be able to build on its success of last week.
Getting their first win of the season is the number one priority for the Eagles English said, but he is not panicked when it comes to his team's abilities.
"We went through this in my first year, a really hard season and even my second," English said. "But my experience is been is when you're turning a program around, you get to that mark where you see some light at the end of the tunnel and then maybe you take a step back a bit for whatever reason.
"It's frustrating but what we keep preaching is the significance of being able to be where you are and keep trying to perform to win football games knowing that we do have some talent and ability and eventually we're going to put a full game together."
Matt Durr covers sports for AnnArbor.com.