Posted on
Fri, Sep 7, 2012 : 5:24 a.m.
EMU looking for first win of the season in home opener against Illinois State
By Matt Durr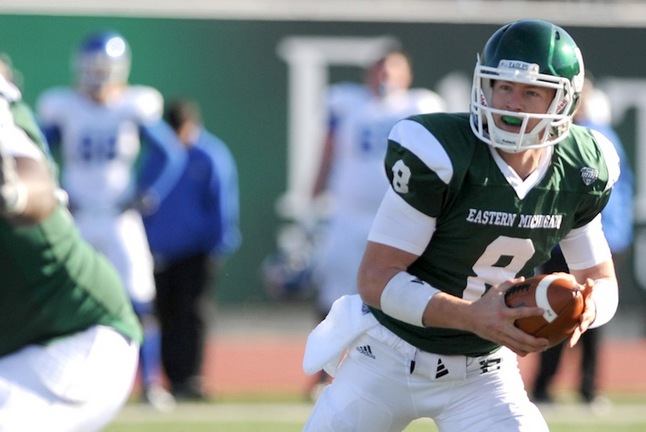 Maybe a little bit of home cooking is what the
Eastern Michigan
football team needs to get back on track.
After a disappointing loss to Ball State last Thursday to open the season, the Eagles are preparing for their home opener Saturday when they host the Illinois State at Rynearson Stadium (1 p.m., Radio: FM 89.1 WEMU)
The Eagles were 5-1 at home last year and are looking to continue that good fortune against the Redbirds, despite last week's struggles.
"I was a little disappointed on my end. We didn't play as hard as we normally play for whatever reason," said EMU head coach Ron English. "I think that we can't forget who we are. We typically are going to play as hard as we can play. We're gonna be physical, play with great intensity and emotion. We just did not do that, so we just have to get back to that."
English was critical of the defensive effort last week. Especially the play of linebacker Bryan Pali. despite Pali's five solo tackles, 12 assisted tackles and a forced fumble.
"For all the numbers that he had, he really did not play well. There were a lot of mistakes that he made that he normally does not," English said about Pali's play. "I just don't think any of our veteran linebackers played well."
The defense allowed 596 yards against Ball State, with 329 yards coming on the ground. Stopping the run will be a key if the Eagles are going to be successful Saturday.
Currently ranked No. 19 in the Football Championship Series (formerly Division I-AA), Illinois State is coming off a 56-14 win over Dayton, where it gained 318 yards and four touchdowns on the ground.
Senior Darrelynn Dunn ran for 127 yards and three touchdowns on 25 carries while junior Cameron Hunt had 120 yards and a touchdown on 14 carries.
"When you watch them you know you're going to play against a lot of transfer athletes from all over the country, a team that's well coached, that's physical, plays great on defense and gives you some problems schematically offensively."
Senior quarterback Matt Brown completed 22-of-34 passes for 192 yards and three touchdowns through the air to balance the attack.
English was pleased with the play of his senior quarterback, Alex Gillett, who completed 15-of-34 passes for 191 yards and three touchdowns against Ball State. He also ran for 81 yards and a touchdown on 11 carries to lead the ground attack for the Eagles.
"I really liked what Alex did. He's made tremendous strides as a quarterback. He had good footwork Thursday night. He made some great throws and I thought he got better as the game went on," English said.
As well as Gillett handled the team last week, the rest of the running game, a strength last season, fell short against Ball State. Senior Dominique Sherrer had just 35 yards on 10 carries, while junior Javonti Greene had 72 yards on nine carries.
Getting the running game going might be tough for the Eagles against Illinois State, who surrendered just 34 yards on the ground last week. The Eagles averaged 218 yards a game last year on the ground and will be looking to return to that form.
English is confident his team will do exactly that.
"We have to practice better to play better. As a coach what my job is is to get them to be consistent and to get them to understand how hard it is to win games."
Matt Durr covers sports for AnnArbor.com.