Posted on
Thu, Nov 1, 2012 : 5:45 a.m.
Eastern Michigan looks to bounce back with Thursday night game against Ohio
By Matt Durr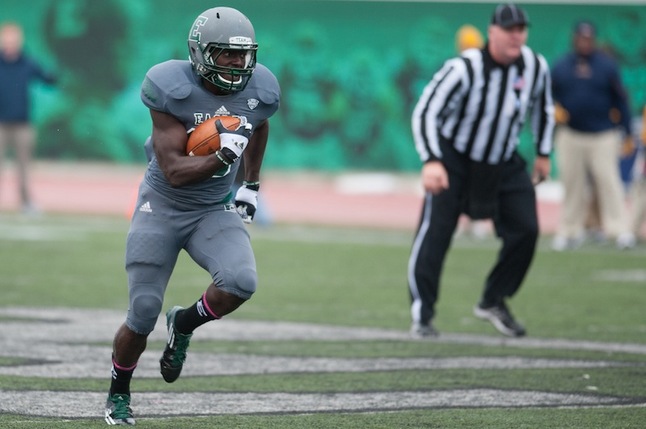 Courtney Sacco | Annarbor.com
Having seemingly found its groove in the previous two games, the Eastern Michigan football team took a step back last week falling to
Bowling Green State, 24-3
. After pulling out its first win of the season two weeks ago, The Eagles offense struggled against BGSU.
Unfortunately for coach Ron English and his team, there isn't much time to correct the mistakes as the Eagles hit the road for a Thursday night game against Ohio (6 p.m., ESPNU).
English said that while his team has struggled on offense this season, a lot of that has to do with the improvement of the teams in the Mid-American Conference.
"We played an excellent (Bowling Green) team. They play tremendous defense. What I've noticed in our conference this year is, the defensive fronts are really good," English said. "There are several defensive fronts that are good we just cannot handle them. We just could not manufacture enough points to win the game."
Before the BGSU game, the Eagles (1-7, 0-4 in MAC play) appeared to have solved their offensive problems, scoring 85 points in six quarters. That success was short-lived however, leaving the Eagles to figure out the issues on a short week.
EMU is scoring just 21.9 points a game, 96th in the nation.
Sophomore Bronson Hill will be counted on to help get the offense rolling. After posting games of 283 and 185 yards rushing, Hill managed just 57 yards on the ground last week. Still, English thinks the running game is showing the signs of consistency he expected at the start of the season.
"If you take the sacks out, we still ran the ball decently. Against that defense we still averaged well over four yards a carry, we just didn't run it enough times," English said after the BGSU game.
While establishing the run is a goal for EMU, English said his team must be able to make the Bobcats pay through the air if presented the chance.
"The thing that is impressive about Ohio is they are running a lot of defense and they're running it without making a lot of mistakes," English said. "Their defense is going to force you to beat man coverage. They're a very sound defense, I think they get better as the games go along,"
Led by junior quarterback Tyler Tettleton (son of former Detroit Tiger Mickey Tettleton), the Bobcats dropped their first game of the season last week against Miami (OH). Still, Ohio averages 34.4 points a contest (32nd in the nation) and is deadly on the ground.
"They do a lot of things offensively. They can be physical and they can give you different looks to move the football and the they're very sound defensively," English said. "They do a nice job of mixing up the run in terms of blocking schemes. It really is a form of option football. They have two good back and Tettleton's got a lot of experience."
Junior Beau Blankenship has rushed for 1,025 yards already this season, tenth in the nation, to go along with seven touchdowns.
The EMU defense has been unable to stop opponents from running the ball all season. This season the Eagles are giving up just over 300 yards a game on the ground, good for 4th worst in college football.
Because of that, English knows that his team can't afford to give the Bobcats extra chances with the football.
"It's going to be a game where if you can't play error free football, you're not going to have a chance to win," English said.
Matt Durr.