Posted on
Sat, Sep 22, 2012 : 7:17 p.m.
Eastern Michigan upset bid falls short in 23-7 loss to Michigan State
By Matt Durr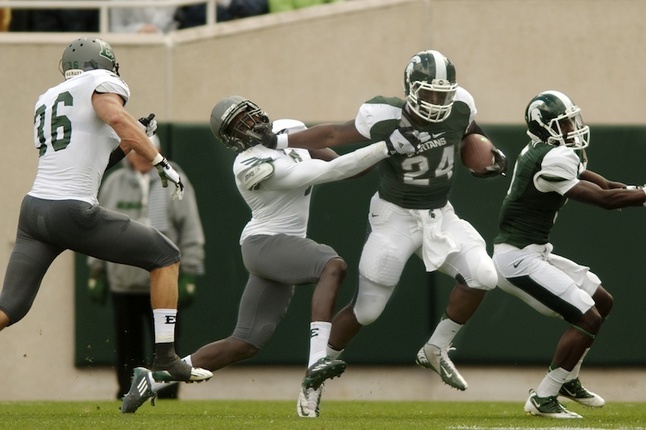 Mike Mulholland | MLive.com
Earlier in the week, Eastern Michigan football coach
Ron English
said his team wasn't looking just to show up and play well against Michigan State. He wanted them to win.
Despite entering the game as a 33-point underdog, the Eagles led the No. 21 Spartans 7-6 with less than two minutes to play in the third quarter.
Unfortunately for the Eagles, their struggling offense never found a rhythm, as EMU fell to the Spartans 23-7 in East Lansing.
"We did a lot of good things. We're fighting the same thing," English said. "We give up two drives where the guy doesn't cover the tight end. I thought the guys played hard. But you know, we give up points on two drives because we don't cover the pass."
The lone Eagles touchdown came after
Justin Cudworth
recovered a fumble on the MSU 23-yard line. On the next play, sophomore quarterback
Tyler Benz
,
who started over senior Alex Gillett
, found
Donald Scott
for a 23-yard touchdown pass. Saline native
Dylan Mulder
hit the extra point giving EMU a 7-3 lead with 3:58 left in the first half.
EMU managed just 183 yards of offense on the day as the running game gained only 46 yards on 29 attempts.
Benz completed 13-of-26 passes for 137 yards and a touchdown in his first career start. Earlier in the week, English said he was looking to get some more snaps for his backup quarterback, but made no mention of him starting.
"I like him out there. I don't know numbers yet; I haven't even looked at them," English said. "But I liked his poise against a hell of a defense...I mean, he was 13-of-26 for 137 and no picks. And I'll take that all day long, and a touchdown. So, I really liked his poise and I like his demeanor."
One of the few highlights for the Eagles on the day was tight end Garrett Hoskins , who had a career-high eight receptions for 102 yards for the Eagles (0-4, 0-1 MAC) in the loss.
After taking a 9-7 lead late in the third quarter, the Spartans (3-1) put the game away with a 12-play, 89-yard drive that took 5:29 off the clock. Dion Sims capped the drive with a 10-yard touchdown from Andrew Maxwell.
MSU kickerDan Conroy made field goals from 35, 44 and 35 yards on the day.
On the next EMU drive, Benz found a streaking Scott behind the MSU coverage, but the junior wide receiver dropped what looked like a sure touchdown.
"That's tough. I did not see the play. I saw him open and I saw the ball, and I assumed it was a touchdown. Obviously I'm sure he's very, very disappointed," English said. "That one play didn't cost us the game. I'm sure it's a devastating play for him, he's got to recover from it."
The Eagles would not get any closer to another score all day.
Entering the game, the EMU run defense was dead last in the FBS haven given up 312.3 yards per game.
The trend continued Saturday as Le'Veon Bell rushed for 253 yards on 36 carries and a touchdown for MSU. The Spartans as a team ran for 269 yards on 44 attempts.
The 253 yards by Bell was the sixth largest rushing day for a running back in Michigan State history.
"I thought the guys did a nice job of trying to tackle Bell, you know he's a load, but we'd just like to finish better," English said. "For the most part, I thought the defensive staff had a good game plan and that the guys did a good job executing that."
The Eagles have a bye week next week before hosting Kent State on Oct.6 at Rynearson Stadium. English has spent plenty of time this season talking about being ready for the return of conference play and is looking forward to the game against KSU.
"I think that we had said all along that we addressed our issues and they were internal, and so we saw this stretch of games as preparing for league play. Now we play an outstanding Kent State team in a couple weeks here so we know that our backs are up against the wall," English said. "We already have a conference loss, so we expect these guys to really prepare and give ourselves a chance."
Matt Durr covers sports for AnnArbor.com.