Posted on
Sat, Aug 14, 2010 : 3:14 p.m.
Eastern Michigan professor Howard Booth, 67, one of state's best Senior Olympian pole vaulters
By Andrew Reid
Howard Booth was curious. He cut down the sapling in his three-acre backyard and shaped it into a pole to "see if he still could get up there."
After all, he'd only taken a 40-year hiatus from pole vaulting. It couldn't be that hard, right?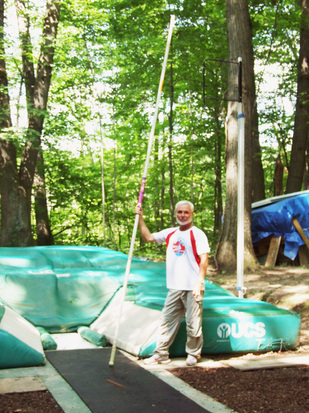 Andy Reid | AnnArbor.com
Turns out, he's one of the best Senior Olympians you'll find.
Booth's pole vaulting test came six years ago. Now 67, the longtime biology professor in the Eastern Michigan University finished tied the second-best pole vault at the Michigan Senior Olympics Summer Games in late July, clearing 9 feet, 6 inches. The winning vault of 10-6 was done by a 50-year-old and is well within Booth's normal range. He also competed in the long jump, finishing fifth.
Booth, an avid distance runner, was a pole vaulter and gymnast in college. He was ranked as high as No. 12 the National Association of Intercollegiate Athletics on the still rings his senior year at Eastern Michigan.
When a friend told him about the Senior Olympics, his original plan was to run the 5K. Then he saw the pole vaulting results and eyed that sapling.
In his first Senior Olympics, Booth set a state record in the 60-to-69 age division by clearing 8 feet, 10 inches. That qualified him for the national meet. He's been hooked ever since and wants to break the U.S. Senior Olympian mark of 11-3.
"It's pretty rare for someone like me, who just picked up the sport," Booth said. "Most of the guys around the country are lifers. … At first, I think they thought I might be a flash in the pan, that I'd get hurt or something and not come back. But I've earned their respect."
Booth's basement, which is set up as a shrine to his athletic accomplishments, has one wall with more than 40 medals on a shelving unit.
"Oh, those are just from last year," he says nonchalantly. He points to a hook on the opposite, overflowing with more medals than he can count.
Summer is the busiest time for Booth, competition-wise. When he's not on the road for competitions - which are all self-funded - he practices with the Eastern Michigan track and field team. When Booth decided to pursue the sport, the impromptu maple-sapling pole wasn't going to do, so he asked the Eastern Michigan coach John Goodridge if he could use the team's facilities in the morning, before the team came to practice.
Soon, Goodridge saw how intense Booth was about the sport.
"Howard is certainly an inspirational individual and athlete," Goodridge said in an e-mail conversation. "As an engaging EMU professor and Masters pole vaulter he certainly embodies the Greek ideal of a sound body and mind connection."
The coaches decided to invite him to their practices to learn from and teach him. "I think (the EMU athletes) find it very novel and pretty surprising to see me out there vaulting," Booth said. "I've been around for a while now, so oftentimes, the new people that come in have already heard of me. … But at first, they were amazed and kind of amused. But soon they saw that I'm as intense about the sport and getting better as they are.
"Of course, I have a limited range, and I'm not jumping as high as they are, but they can see how hard I work. And it's great, we feed off each other. I'm always willing to help them, and they're always giving me pointers, too. I consider all of them, players and coaches, great friends."
Booth also built a practice facility in his backyard. It was built, surprisingly, on the side of a sloping hill, which obviously presented some problems. He got a few members of the team to help design and build it.
"Well, we thought, if you can build a bridge, you can certainly build a runway like this," Booth said.
Painted green to match the pads he received from Eastern Michigan team after it was planning to throw them out - the runway is scenic and peaceful. Booth's wife, Lu, can watch him from the house.
"When they first started building it, I said, 'Oh this looks ridiculous,' " Lu said, laughing. "They were out there in their hard hats. But I'm proud of him. I know it's his passion."
About three or four days a week, local pole vaulters he's met and become friends with at competitions come to practice with him. Some are high-school coaches who bring their athletes along, too.
Booth is now building a workout facility next to the pit, with still rings, a climbing rope, and a huge swing for his granddaughter.
Booth, now entering his seventh year of competition, won't hang up the pole anytime soon.
"Oh, there's some vaulters as old as 100," he said. "I'll be doing this for a long, long time."
Andy Reid covers sports for AnnArbor.com. He can be reached at andrewreid@annarbor.com.