Posted on
Mon, Dec 21, 2009 : 2:52 p.m.
ESPN analyst: Donovan Warren 'not the player he should be at this point'
By Dave Birkett
ESPN draft analyst Todd McShay said in a conference call Monday that Michigan cornerback Donovan Warren could be a second-round pick in April's NFL Draft, though he would have been better served returning to school.
"I wasn't surprised," McShay said of Warren's decision. "I had heard he was leaning in that direction. I guess I was a little bit disappointed. I just think that he hasn't quite reached his potential yet."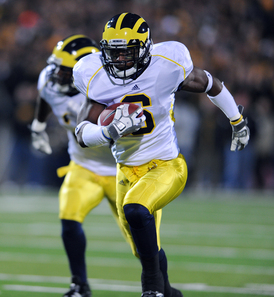 Lon Horwedel | AnnArbor.com
McShay said he expects Warren, who led Michigan with 4 interceptions this year, to fall to "the middle of the second round because he's just not the player he should be at this point."
The junior said Sunday he was told he'd be drafted somewhere in the first 3 rounds.
"I like his athleticism and I think he can develop into a starting cornerback in the NFL," McShay said. "But the inconsistency that I see in his game and the occasional mistakes and a lot of the technique and footwork that he needs to improve upon, I think that that's going to cost him as we get closer to the draft."
Warren, 6-foot and 185 pounds, does not rank among McShay's top five cornerbacks of Florida's Joe Haden, Florida State's Patrick Robinson, Oklahoma State's Perrish Cox, Boise State's Kyle Wilson and Alabama's Javier Arenas.
"There's a lot of depth to this cornerback class but there's not a lot of elite corners, so it'll be interesting," McShay said. "I think workouts and combine and all those different things will really help shake out this class.
"I would probably put Warren behind those top 5, in the same category as guys like Brandon Ghee from Wake Forest and Devin McCourty from Rutgers."
As for defensive end Brandon Graham, the nation's leader in tackles for loss, McShay said he should be a top-50 pick.
"He was phenomenal to watch this year," McShay said. "He really was. He's not the fastest defensive end and he's not going to be a huge sackmaster in the NFL, but his versatility, his relentless approach and just his toughness as a player, he gives the type of effort of every single down that coaches love.
"I think that when you get closer to the draft and all the character concerns and injuries and all the different things that start coming up with players, he's going to be one of the guys that you just look at and say he may never be an annual Pro Bowl-type guy, but he certainly is safe. And I think that's going to help him."
Dave Birkett covers University of Michigan football for AnnArbor.com. He can be reached by phone at 734-623-2552 or by e-mail at davidbirkett@annarbor.com. Follow him on Twitter @davebirkett.