Posted on
Tue, Aug 27, 2013 : 3:55 p.m.
Ex-Michigan goalie Shawn Hunwick retires from pro hockey to become agent
By Pete Cunningham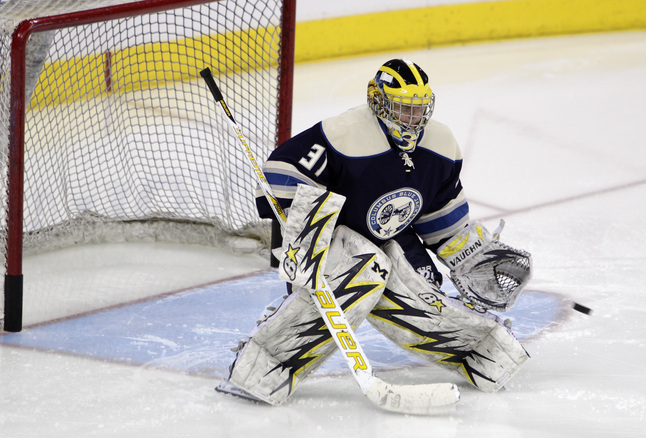 AP photo
Former
Michigan hockey
goaltender
Shawn Hunwick
announced his retirement from professional hockey on Monday. There was no press conference, no tears, just a simple tweet stating that his brief professional playing career is over and his new career as a player agent is beginning.
"I have made the difficult decision to stop playing. It's been an amazing journey filled with unforgettable memories," Hunwick posted on Twitter on Monday.
Hunwick will be an agent with Legacy Global Sports, the agency which represented him.
"We'd been, looking to fill that role for a while, since the spring and thought of Shawn in that period," said Hunwick's former agent and now colleague Alec Schall. "It's a natural progression for some guys and Shawn has left good relationships all around the hockey world and that puts him at an advantage."
"Shawn will work with current clients who he is familiar with and move toward representing NHL players over time."
AnnArbor.com file photo
Hunwick's stellar career at Michigan
was an unexpected one to say the least
, to him included. Michigan was thin at goalie prior to the 2007-08 season so Hunwick was brought on in a walk-on capacity.
Hunwick has said multiple time in the past that expected to be a career backup in college and was perfectly fine with that.
But players leaving early and de-committing from Michigan, plus injuries to Bryan Hogan helped Hunwick get a chance to prove himself. He eventually became the starter, played in the national championship game and by his senior year was a captain and Hobey Baker finalist. He graduate as the Wolverines all-time leader in save percentage (.927) and goals against average (2.09) and in the top 10 for both wins and shutouts.
"His last two years at Michigan were the best of any goalie we've had at Michigan," said assistant coach Billy Powers.
Hunwick had an equally unlikely start to his professional career as he was called into backup duty for the NHL's Columbus Bluejackets at a moment's notice after injuries left the the club thin between the pipes. Outside of backup duty, his NHL playing career consisted of 153 seconds of on-ice time in the team's season finale.
Over the past year Hunwick played in Austria for a brief stint and for Columbus' minor league affiliates.
"Shawn has been around Ann Arbor a lot this summer, so we kind of had the sense he was leaning this way," Powers said. "We think of him as someone who easily could still be playing pro hockey, but it's not the easiest gig, especially with limited spots for a goalie, and not knowing where you're going to be.
"I think that he had kind of moved around a little bit already so at some point the handwriting's on the wall. Sounds like there was a business opportunity that was too good to pass up and that makes the decision easier."
Michigan coach Red Berenson has been know to tell players to give playing pro hockey a shot with the goal of playing in the NHL, but encourages them not to be "hockey bums" bouncing around the minor league ranks.
"That's why you go to Michigan, so that when the career is coming to an end and the handwriting's on the wall, the Michigan degree gives you options and he's found a way to get started in this business," Powers said.
Berenson and Hunwick were not available for comment.
Pete Cunningham covers sports for AnnArbor.com. He can be reached at petercunningham@annarbor.com. Follow him on Twitter @petcunningham.