Posted on
Mon, Jul 8, 2013 : 4:44 p.m.
Ex-professional wrestler George 'The Animal' Steele coming to Ann Arbor Barnes and Noble
By Pete Cunningham
Former professional wrestler and Michigan native George "The Animal" Steele is coming to a Barnes and Noble near you.
No word yet on if he's bringing a shirt.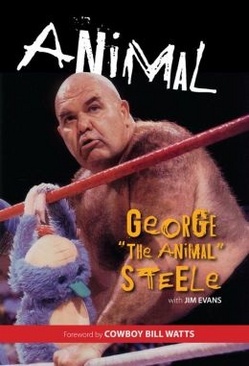 Courtesy photo
The former World Wrestling Federation (now World Wrestling Entertainment) wrestler will be at the Ann Arbor Barnes and Noble, located at
3235 Washtenaw Avenue
, on Monday, July 15, at 7 p.m. discussing his newly released memoir
"Animal,"
by Jim Evans, which is filled with nostalgic tidbits and insider information about the professional wrestling scene in the 1970s and '80s.
The book also discusses how Steele balanced his public persona as wrestler in the WWF—where he was famous for animal-like grunts, attempts at eating turnbuckles, hairy back and green tongue—with his normal life as Jim Meyers: high school teacher, football/wrestling coach and father. Meyers is a member of the Michigan High School Coaches Hall of Fame for his 25-year coaching career at Madison Heights. Madison Heights won a 1969 state championship under Meyers and was runner-up in 1970.
Monday's appearance at Barnes and Noble will include a talk by Steele, followed by a question and answer period and book signing.
George "The Animal" Steele:
Pete Cunningham covers sports for AnnArbor.com. He can be reached at petercunningham@annarbor.com. Follow him on Twitter @petcunningham.