Posted on
Thu, Dec 10, 2009 : 9:50 a.m.
Excitement turning to expectations at Huron
By Rich Rezler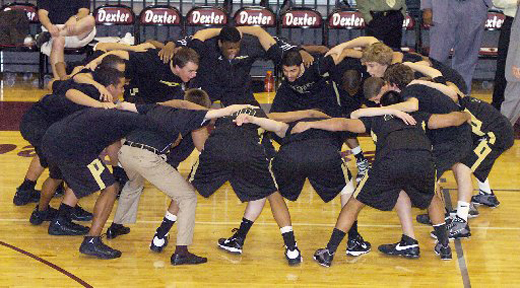 With a season full of so many highlights, it seems almost cruel to bring up those last 10 minutes.
Sure, it was a flash of time the returning members of Huron High School boys basketball team -- and there are plenty of returning members -- would rather just forget. But it's also a feeling of helplessness they're working hard to not experience again.
Huron led state's No. 2-ranked team, Kalamazoo Central, for much of the second quarter and was within 41-37 with 2:22 remaining in the third quarter of a Class A regional semifinal last March. But that's when the 20-2 River Rat team suddenly lost control of its own destiny and Central turned the game into its own version of an And1 tour stop.
Huron coach Waleed Samaha calls it the perfect lesson for this year's team, which returns seven of its top 10 players and has gradually transformed from a young team with an exciting future to an experienced team with growing expectations.
"Kalamazoo Central's maturity, experience, all the grind they had endured … it paid off for them," Samaha said recently. "They were the better team, the more mature team, and in better condition over those last minutes.
"We were struggling to stay competitive. Whether that was a function of our lack of experience or a lack of toughness, those are lessons we've learned. This season we're bigger, faster, stronger. Every player made a commitment. I think this year, we have a chance to win that game."
Samaha and his players think they have a chance to win a lot of important games this season, and they've been aggressive about proving it.
They beat defending Class A state champion Detroit Pershing in a scrimmage earlier this month. They beat the defending Ohio state champion St. Vincent-St. Mary (yes, Lebron's old school) at a Dayton University summer camp.
And the aggressive scheduling continues during the regular season, during which Huron will leave the state to play traditionally strong programs from South Bend (Ind.) John Adams, Dayton (Ohio) Dunbar, Saint Charles (Ill.) North and Waubonsie Valley in Aurora, Ill.
In-state, they'll face Romulus and Detroit Renaissance before turning their attention to the Southeastern Conference Red Division.
The impetus for such a demanding schedule? Those final 10 minutes of last season.
"We felt like … not only was the stage something we hadn't been accustomed to, but the level of competition wasn't something we'd played," Samaha says. "So we went out seeking a bigger stage and better competition whenever possible. In addition to the SEC, that's the type of regular season that will prepare us for the ultimate goal of playing in the Final Four."
The River Rats certainly aren't being shy about their expectations, and why should they?
Junior point guard A.J. Mathew is back to lead the River Rats for the third season, and he's joined by a cast of long, athletic and experienced players like Dante Williams, Matt Hastings, Kyle Baker, DeAndre Caldwell, Jalen Bouma and Andrew Gleichert.
Throw in some key newcomers from a 16-4 junior varsity program and Samaha says his team will go 10 deep in their "32 minutes of hell" philosophy that features a constant trapping defense.
"We're embracing the expectations because we're setting our expectations at the highest level," Samaha says.