Posted on
Sat, Nov 5, 2011 : 3:41 p.m.
Field goal helps Ball State clip Eastern Michigan football team, 33-31
By AnnArbor.com Freelance Journalist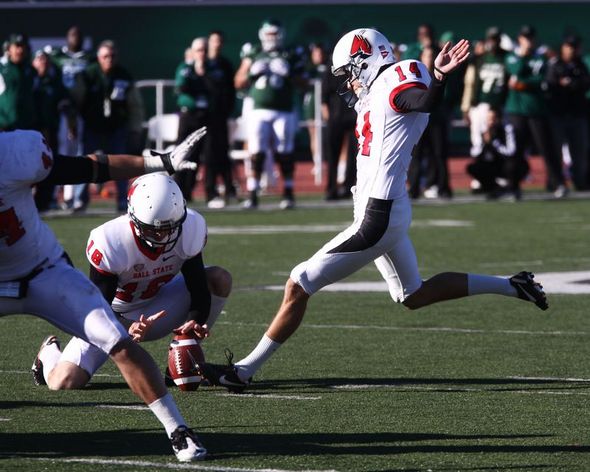 Jeff Sainlar I AnnArbor.com
Justin Souva
For AnnArbor.com
No doubt: The Eastern Michigan football team hasn't looked this good in years, but the Eagles proved Saturday there is room for improvement.
Clinging to a one-point lead late in the fourth quarter, the Eagles were not able to hold on as visiting Ball State won, 33-31, on Steven Schott's 44-yard field goal with 9 seconds left.
Eastern Michigan's defense wasn't able to make a late stand like it had two weeks ago in its 14-10 victory against Western Michigan.
Nor was its offense able to complete its final drive with a touchdown, instead settling for a field goal despite having first-and-goal from the 1-yard line. The Eagles were stuffed three consecutive times on rushing attempts.
Related content: Photo gallery | Boxscore | MAC standings
"It was obviously a big series for them for us not to get in," Eastern coach Ron English said. "I know one thing we wanted to use some clock there because we had struggled stopping them.
"We just didn't get it in, and it's unfortunate we didn't. I take the blame for that series."
Eastern Michigan is two years removed from a winless season, but at 5-4 (3-2 Mid-American Conference) it is close to reaching the most wins for the program since it went 6-5 in 1995. English is in his third season with the Eagles. They went 0-12 in 2009 and 2-10 in 2010.
Ball State (6-4, 4-2) had the ball on its own 27-yard line with 1:18 remaining and no timeouts and was able to drive close enough to get in Schott's range, and he made the field goal despite the pressure.
"We scored enough points to win the game," English said. "That wasn't really the issue. The issue was we didn't get a stop at the end of the game to win the game."
Ball State opened the scoring 5:22 into the game with a 94-yard touchdown pass by Keith Wenning to Torieal Gibson.
Eastern quarterback Alex Gillett threw a 32-yard touchdown to Trey Hunter on the Eagles' next drive. The teams then traded touchdowns to end the first quarter tied, 14-14.
Schott made two of his four field goals in the second quarter, and Gillett threw his third of four touchdowns to give Eastern Michigan a 21-20 halftime lead.
Jahwan Edwards scored on a 15-yard run to give Ball State a 27-21 lead on its first drive of the third.
Eastern's Tyreese Russell had two touchdown receptions, including one with 4 seconds remaining in the third. He was wide open in the left corner of the end zone and Gillett didn't miss him on the 16-yard pass.
The Eagles rushed for 305 yards. Gillett had 126, Dominique White had 83 and Dominique Sherrer had 76. The team entered the game with the 15th-best rush offense in the country at 226.1 yards per game.
Wenning completed 20 of 35 passes for 284 yards and two scores. Gillett was 12 of 17 for 196 yards.
Bryan Pali had an interception for Eastern Michigan — the game's lone turnover.