Posted on
Sat, Jul 24, 2010 : 2 p.m.
FIFA World Cup affords two Ann Arborites experience of a lifetime
By Pete Cunningham
Courtesy of Adam Jacobs
Two Ann Arbor residents enjoyed the experience of a lifetime while attending the 2010 FIFA World Cup in South Africa.
Tyrone Schiff, 23, a graduate of the University of Michigan who now works at Google, returned to the place he still considers home for the first time since he and his family came to the United States 12 years ago. For 24-year-old photographer Adam Jacobs, the World Cup represented a professional breakthrough.
From two different vantage points, one game resonated with them more than any other.
"I think the game that I enjoy talking about the most was the Uruguay-Ghana game just because it was the probably the most dramatic game of the entire World Cup," Schiff said.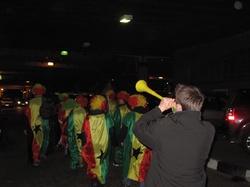 Photo courtesy of Tyrone Schiff
Jacobs saw 15 games while in South Africa, working as a professional photographer, securitng a credential while working with the U.S. Soccer Federation and 1Goal, the official charity of the World Cup.
Even with all his access, his favorite memory is similar to Schiff's - his experience at the Ghana-Uruguay game.
"What's cool was you saw people all wearing England shirts, Germany shirts, U.S. shirts, whoever, but they all had their face painted like Ghana flags," Jacobs said.
Schiff's face, along with his dad and two brothers, was among the painted. He described his journey from the train station to the stadium that day as one of the more amazing experiences of his life.
"It was just unbelievably colorful as everyone was just jam-packed on the platform, wearing all these festive colors and supporting Ghana," Schiff said. "(Once off the train) in order to see Soccer City is you have to go over a hill."
The hill blocked the view of Soccer City, the flagship stadium of the World Cup.
"You can't see anything all you see is fans all around you, going nuts having a great time," Schiff said. "And you're in the middle of Soweto, so there isn't a lot of electricity, the entire night is just pitch black. … Eventually you get to the top of this hill and from the top you can see this shining light in the middle of pitch blackness and it is Soccer City.
"It is probably one of the most overwhelming things … you can feel it on your skin, just how amazing this stadium is. You see it glowing in the night and it's just like 'wow, what an amazing place I am.'"

Schiff described the stands as an absolute riot, loud with Ghana chants and blaring vuvuzellas. Even for Jacobs, who said the atmosphere of a stadium is sometimes lost on him because he's focusing on his work, the aura was palpable.
"Every time there was a corner kick or anything like that, the volume of the vuvuzellas was unbelievable," Jacobs said. "When Ghana scored the whole stadium was shaking, like Yost (Ice Arena) would shake, but with 90,000 people."
Ninety-nine point-nine percent of which, he estimated, rooting for Ghana.
When Ghana blew a last-second penalty shot that would have made the Black Stars the first African team to ever reach a World Cup semifinal, and eventually lost in a shootout, both said you could hear a pin drop.
"I have never heard a stadium go from so loud to so quiet in the space of five seconds," Jacobs said.
He heard his share of raucous stadiums during the Cup. Jacobs was half a field away from Landon Donovan's game-winning goal against Algeria, and what is arguably the greatest moment U.S. Soccer history turned into one of the greatest moments of Jacobs' career. One of his photos of Donovan's post-goal celebration ran on the front page of ESPN.com.
"I was very lucky, a lot of photography is being in the right place at the right time," Jacobs said. "I knew it was a great shot straight away and I knew it was an iconic moment, so I sent it straight on, probably within a minute of scoring and within 20 minutes I got an e-mail saying I would be on the front page of ESPN.
"To have that in my portfolio, in terms of exposure for me, to be able to capture such an iconic moment in U.S. soccer, it was a real privilege."
Like Schiff, it wasn't just the soccer that enthralled Jacobs. His work for the 1Goal charity led to him spending a day with Mick Jagger in Soweto, attending a conference with Desmond Tutu, meeting Frederick Willem De Klerk and traveling to Nelson Mandela's home with Bill Clinton and the U.S. World Cup bid committee.
"Working with the charity allowed me to get away from the media centers, away from the stadiums," said Jacobs. "The crazy thing about South Africa is that the history is so recent. It's kind of scary that apartheid ended 20 years ago. Like going on a tour of a prison, you'd see these prisons where they literally used to put people in because they were black and you look at the signs, and there's torture racks next it, and they say 'prison closed 1989.'"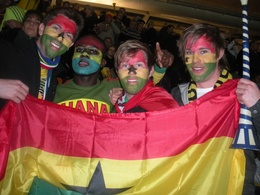 Photo courtesy of Tyrone Schiff
Schiff returned stateside prior to the semifinals, while Jacobs worked an additional week after the tournament and continued "chugging Red Bulls like there's no tomorrow" just making it back to Ann Arbor in time to set up shop at the Ann Arbor Art Fair.
For both it was an experience of a lifetime.
"The whole World Cup has made me very proud to be a South African," Schiff said. "It was awesome…just an awesome time."
Pete Cunningham covers sports for AnnArbor.com. He can be reached by e-mail at petercunningham@annarbor.com or by phone at 734-623-2561. Follow him on Twitter @petcunningham.