Posted on
Wed, Jun 9, 2010 : 4:11 p.m.
Former Eastern Michigan forward Justin Dobbins close to signing European pro deal
By Jeff Arnold
Justin Dobbins has always held aspirations of playing professional basketball.
As his game matured at Eastern Michigan, the 6-foot-8, 245-pound forward kept his priorities in check, making sure he finished strong before turning his attention to a chance at the next level.
By the end of this week, Dobbins expects to sign a one-year contract with the Worcester Wolves of the British Basketball League. The Wolves finished in ninth place in the 13-team league with an 18-18 record.
For Dobbins, the move not only allows him to showcase his game, but possibly been seen by those that help him take the next step down the road.
"This is one of the things that I was coming for college for," Dobbins said Wednesday. "There's a lot of competition overseas and there's a lot of guys competing at a lot of different levels and that's what really really caught my eye.
"But I think this is a first step for me."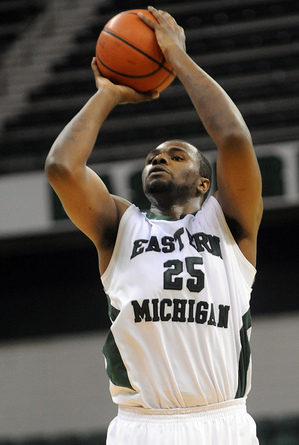 Dobbins averaged 12.1 points and 5.9 points for the Eagles as a senior, ranking third in scoring behind teammates
Carlos Medlock
and
Brandon Bowdry
. 
 
They key for Dobbins will be patience. EMU coach
Charles Ramsey
, a former Michigan assistant, points to players like
Courtney Sims, Chris Hunter
and
Brent Petway
who began playing in Europe before returning to the U.S.
"If this is truly his dream, you you have to embark on it and know it's going to be a marathon," Ramsey said. "You're going to have to take some side streets and some detours to get to your ultimate goal.
"He's at a point in his time that it's a great thing to be able to see the world and now he's going to figure out what it's like in the real world."
Dobbins will report to training camp in September. Between now and then, he'll spend plenty of his time working out, shoring up use of his left hand and other aspects of his game.
Worcester is 135 miles from London and will provide Dobbins the chance to experience life overseas for the first time. 
"I think it's going to be a calm, laid-back environment where you can go and live and enjoy playing basketball," he said. "I think it's an area that can adapt to and be comfortable in. It's a chance to just go have fun and enjoy your life."
Jeff Arnold covers sports for AnnArbor.com and can be reached at (734) 623-2554 or by email at jeffarnold@annarbor.com. Follow him on Twitter @jeffreyparnold.