Posted on
Thu, Jan 31, 2013 : 2:24 p.m.
Former Eastern Michigan, Indiana basketball player Devan Dumes charged with attempted murder
By Pete Cunningham
Former Eastern Michigan and Indiana University basketball player Devan Dumes has been charged with attempted murder in Indianapolis.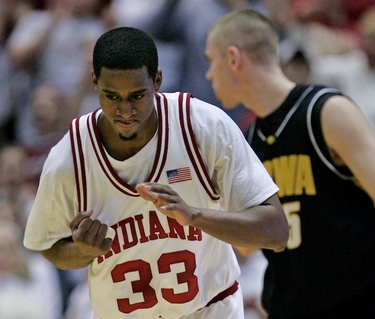 Associated Press
According to an Indianapolis Star report,
Dumes -- an Indianapolis native -- is accused of shooting a man in the neck. According the report, it was Humes' second arrest this month after being charged with criminal recklessness for allegedly firing shots into a home where his 1-year-old nephew and brother were inside just days before shooting the man in the neck.
Dumes played his freshman year at Eastern Michigan University in the 2006-07 season. After averaging 8.1 points, 2 rebounds, 1.6 assists and 1.0 steals for the Eagles, Dumes transferred to Vincennes Junior College where he averaged 16.9 points, four rebounds and four assists during the 2007-08 season.
Dumes used his final two years of eligibility at Indiana where he led the team in scoring with 12.4 points per game during the 2008-09 season. He played in 30 of 31 games for the Hoosiers in 2009-10 as a senior and was second on the team in steals (30) and 3-pointers made (31).