Posted on
Fri, Jan 28, 2011 : 8:46 a.m.
Former Eastern Michigan standout T.J. Lang embracing Super Bowl opportunity early in his NFL career
By Jeff Arnold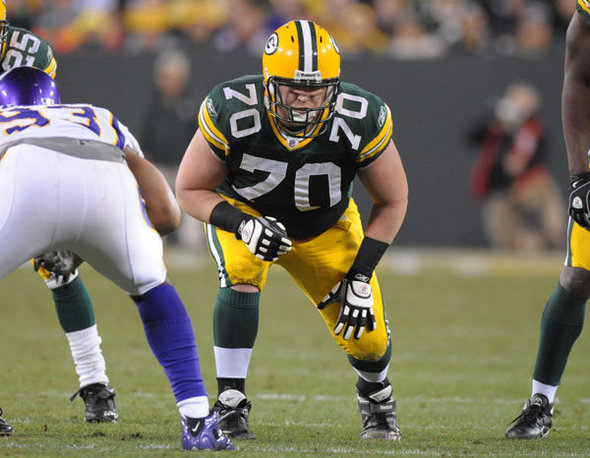 Green Bay Packers photo
T.J. Lang glanced at the Soldier Field scoreboard Sunday, ensuring he was Super Bowl-bound.
The day already included the second-year Green Bay Packers' offensive lineman's biggest NFL moment as Lang played in the NFC Championship game in front of a hostile crowd in Chicago.
Lang played three series, protecting quarterback Aaron Rodgers from the likes of Julius Peppers, the Bears' defensive behemoth Lang drew as an assignment when teammate Chad Clifton left the game with an injury.
For Lang, a former Eastern Michigan standout lineman, it was the kind of chance he dreamed of when he was drafted by the Packers in the fourth round of the 2009 NFL Draft.
"That's probably the most nervous I've ever been playing a game," Lang said in a phone interview on Thursday. "Once I saw Clifton go down, I said, 'Well, I've got to step up and go play, but obviously, that's the biggest stage I've ever played on.
"That first drive, I had a few shaky plays, but I feel like I kind of settled down after that and started to get into a bit of a groove. I was definitely glad I got that opportunity."
After rookie Sam Shields' fourth-quarter interception sealed Green Bay's 21-14 win over the Bears, the reality of the moment didn't hit Lang. He returned to his phone in the locker room, where he had 150 text messages and a handful of missed calls.
But even in the midst of the locker room celebration, Lang still couldn't believe that in his second NFL season he was heading for a Super Bowl. Everything was happening so quickly and it didn't seem possible that the Packers - who had to beat Chicago on the final week of the regular season just to make the playoffs - were heading to Dallas.
"It's kind of weird that it has kind of hit everyone else, and I'm just waiting for it to just hit me. It's still floating up in the air a little bit.
"I'm still trying to convince myself we're going to the Super Bowl."
That reality became a little more defined on Wednesday when Lang reported to Lambeau Field to pick up Super Bowl tickets and make hotel and flight arrangements for next week's Texas trip. He was given two tickets and then had the opportunity to purchase 13 more.
In a week when his phone has been ringing non-stop and his Facebook friend list had reached 2,648 by Thursday afternoon, Lang has been forced to manage ticket requests in the shrewdest of fashions.
"It's kind of a mom, dad, sister, girlfriend, couple of close buddies kind of a thing," Lang said. I"m not going to pay for my whole family and all my buddies to come down. It's more of an immediate family type of deal, because those tickets definitely ain't cheap."
Lang and his teammates leave for Dallas on Monday when they'll begin the frenzied build up for their championship meeting with the Pittsburgh Steelers.
While the Super Bowl experience is special for Lang, he knows what it means for not only the city of Green Bay, but for many of his veteran teammates like former Michigan standout Charles Woodson.
But perhaps, Lang said, the championship opportunity may mean the most to Rodgers, who has had been looked upon to carry the Packers to the Super Bowl while still living in Brett Favre's shadow.
Lang, who joined the Packers the year after Favre departed, said he's been amazed the way Rodgers has handled the scrutiny. After the NFC Championship game victory, Rodgers told reporters afterward he never doubted his ability but, "I just always wondered if I would get a chance ... to show it."
For Lang, one of Rodgers' protectors up front, the chance to get his quarterback a title is special -Â even if that opportunity is coming much sooner in his career than he ever imagined it would.
"We want to do it for (Rodgers) and all the other veterans," Lang said. "It's amazing to only be in the league two years and you talk about guys like Woodson and (Donald) Driver and they've waited 13, 14 years to go to a place I'm going in my second year. But those guys deserve it the most.
"There's been been guys that have played 15, 16, 17, 20 years and they've never had the opportunity to go to the Super Bowl. I'm getting to go in my second year, so I'm definitely not going to take anything for granted. I'm going to stay focused and go down there and enjoy the experience."
Jeff Arnold covers Michigan hockey for AnnArbor.com and can be reached at (734) 623-2554 or by e-mail at jeffarnold@annarbor.com. Follow him on Twitter @jeffreyparnold.