Posted on
Tue, Sep 25, 2012 : 5:59 a.m.
Former EMU player T.J. Lang sounds off on NFL after Monday Night Football debacle
By Pete Cunningham
Twitter can serve as a dangerous suggestion box.
And for former Eastern Michigan football player T.J. Lang, it may soon prove a rather expensive one, too.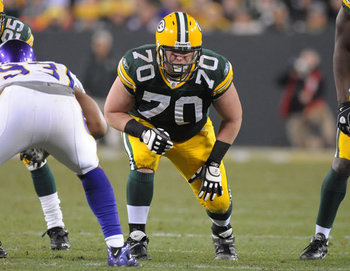 Green Bay Packers photo
After a controversial end to the Monday Night Football game between the Green Bay Packers and Seattle Seahawks on ESPN, Lang sounded off on the NFL for not having the labor dispute settled with its regular referees.
"Got (expletive)ed by the refs.. Embarrassing. Thanks nfl," Lang posted on his Twitter account, @TJLang70 early Tuesday morning.
Lang, a Royal Oak native, played at Eastern Michigan from 2005-2008 before being drafted by Green Bay in the fourth round of the 2009 NFL draft.
Green Bay lost 14-12 to Seattle after a last second pass into the end zone that appeared to be intercepted by a Green Bay player was ruled a touchdown for the Seahawks. Two officials were in the end zone and one signaled for an interception, the other a touchdown, before eventually both signaling the score. It appeared the Green Bay defender, M.D. Jennings, intercepted Russell Wilson's pass and came down with it before Seattle wide receiver Golden Tate wrapped his arms around the ball.
According to the NFL rulebook, if two opposing players gain simultaneous possession of the ball, the tie goes to the offensive player. However, if two players are ruled to have simultaneous possession, but one of the players had sole possession prior to the tie, the player who originally had the ball retains possession.
The NFL locked out its officials in June after their contract expired and the league has been using replacement officials through the preseason and first three weeks of the regular season as a result. There has been heavy criticism over the replacement referees' performance in the early goings of the season and it all came to a head after the Monday night game.
While criticism of officials is nothing new to the NFL, or any other professional sports league for that matter, the fact that the referees on the field actually haven't gone through the standard training and qualifying process has brought especially pointed scrutiny.
NFL commissioner Roger Goodell has already instructed players and coaches not to publicly criticize the replacement officials and doled out expensive fines for not those who have not complied.
Lang seemed well aware that his actions will likely draw a stiff penalty and, judging from his posts on Twitter, doesn't seem to mind. He just hopes the money goes to a worthy cause.
"(Expletive) it NFL.. Fine me and use the money to pay the regular refs," Lang said on Twitter.
Pete Cunningham covers sports for AnnArbor.com.