Posted on
Wed, Feb 10, 2010 : 7:45 p.m.
Former Michigan football star Tyrone Wheatley leaves Eastern Michigan to coach at Syracuse
By Jeff Arnold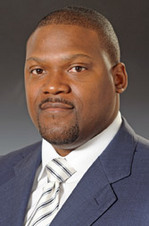 Tyrone Wheatley
has always believed he was meant to coach football.
The former Michigan running back insists he will one day get his shot as a head coach. In the meantime, though, he'll continue to work with young running backs at Syracuse, which announced Tuesday that Wheatley joined its football staff.
Wheatley's hiring came a day after newly-hired Orange running backs coach Roger Harriott resigned, saying he had changed his mind. That opened the door for Wheatley, who worked last season as an Eastern Michigan assistant under Ron English.
Wheatley, whose only prior coaching experience came at Dearborn Heights Robichaud High School, played 10 years in the NFL with the New York Giants and Oakland Raiders. He was the 1992 Big Ten Player of the Year.
In a phone interview Wednesday night, Wheatley said he never approached his job with Eastern Michigan as a stepping stone. Despite getting different job offers - including one with the Cleveland Browns shortly after he joined English's staff - Wheatley committed to stay for a year.
But when Syracuse coach Doug Marrone called him earlier this week offering him the position with the Orange, Wheatley felt like making the move to a Big East program was right for him.
"It was very surprising, but then you get a call and you do what you think you need to do," Wheatley said. "Obviously, I have had other opportunities while I was at Eastern Michigan, but it has to be the right situation.
"(Leaving a job) is the unfortunate side of the business, but I'm excited about this opportunity."
At Syracuse, Wheatley will operate within an offense that he played in the majority of his career. The move also afforded him the chance to work with two long-time friends - special teams coordinator Bob Casullo and quarterbacks coach Nathaniel Hackett. He also made an immediate connection with Marrone, who he referred to as "a serious ball coach."
Wheatley was three-time All-Big Ten selection and ranks fourth on the Michigan career rushing yards record list (4,178 yards on 688 carries) and is second in career rushing touchdowns (47). He also holds the Michigan single-season yards per carry record (7.34 in 1992) and averaged a school-record 15.7 yards per carry in the 1993 Rose Bowl victory over Washington.
Marrone told Syracuse-area reporters that Wheatley's NFL experience and name recognition would provide him with a solid foundation with the school's running backs.
"He's played the position, been on the field at the highest level and seen in through the eyes of a player," Marrone said. "Plus, he played in a system I'm familiar with and believe in. His learning curve should be a lot easier."
Marrone said that the fact Wheatley had working relationships with two members of the Syracuse staff did not factor into his hiring. Instead, he said he established an immediate connection with Wheatley, calling him the "right fit" for the opening.
"The first question I ask any candidate is, 'What are you going to do for these players outside of football?'" Marrone said. "I'm interested in how a coach is going to help a kid become a better man, a better member of society. Tyrone has the same core values I have. That was the most important thing."
Wheatley said he will continue to work with the same philosophy he did with Eastern Michigan's backs. He said that sharing his football knowledge will be the easy part, but that the challenge comes in getting his running backs to play with more energy even when they believe they have nothing left.
"What (Syracuse) is getting is a guy that can get a little more out of his players," Wheatley said. "I've played the position, I've been in the locker room, but what I think I can do is get to get a player to play beyond his capabilities."
Since his retirement from pro football six years ago, Wheatley had minority coaching internships with the Tampa Bay Buccaneers and Pittsburgh Steelers. In addition to serving as Eastern Michigan's running backs coach, Wheatley also worked as the team's recruiting coordinator.
English said Wednesday night that he's already begun a search for Wheatley's position. He said he has a list of candidates he has in mind for the position. More than football knowledge, English said he'll look for a good people manager and a recruiter that can help land players in his program.
Despite the quick turnaround with the Syracuse running backs coach position, English said he wasn't surprised when Wheatley announced he was leaving.
"That's a position that's pretty transient , especially when you are where we are as a program," English said. "But I think the MAC is a breeding ground for these kind of jobs and obviously, when (another coach) calls and expresses interest in a guy, I think you assume he's going to leave."
Jeff Arnold covers sports for AnnArbor.com. He can be reached at jeffarnold@annarbor.com or 734-623-2554. Follow him on Twitter @jeffreyparnold.