Posted on
Sun, May 16, 2010 : 6 a.m.
Former Michigan gymnast Elise Ray has mixed feelings about receiving Olympic medal 10 years later
By Jeff Arnold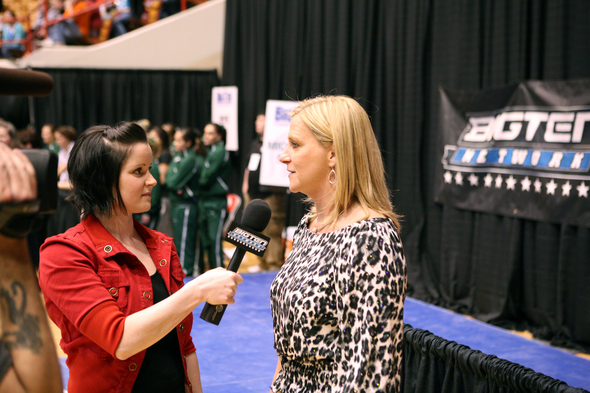 Elise Ray spent 10 years moving forward, her Olympic wounds healing over time.
The 2000 Syndey Games were so gut-wrenching that Ray, a 14-time gymnastics All-American and three-time national champion at Michigan, nearly abandoned the sport before her collegiate career began.
Now, a decade after six-member U.S. Olympic team became the first American squad not to medal for the first time since 1992, an International Olympic Committee decision in April to strip China of its women's team bronze medal and award it to the United States forced Ray to come to grips with feelings she worked to put behind her.
Ray, now 28, will officially become an Olympic medalist at a ceremony that may take place in August at the U.S. Championships in Hartford, Conn. The news - both of the IOC's decision to award the U.S. the bronze medal and to do so at a public ceremony 10 years after the fact - leaves Ray conflicted.
"At first when I heard, I was really excited," she said in a phone interview last week from her Maryland home. "But on the other hand, it's like this swarm of emotions hits you have to deal a lot of memories and emotions that a lot of us had swept underneath the rug."
Already an accomplished international competitor, Ray entered the Sydney Olympics having won the all-around title at the 2000 national championships and Olympic Trials.
But nothing was easy once Ray and the U.S. gymnasts reached Australia.
Because of strict team rules laid down by national team coordinator Bela Karolyi, the U.S. gymnasts were not permitted to stay in the Olympic Village nor were they allowed to participate in the opening ceremonies or any of the usual rituals that make up the Olympic experience.
The Americans' competitive venture wouldn't prove to be any better. In the all-around finals, the vaulting horse was set five centimeters too low, forcing several gymnasts, including Ray, to misjudge their entry and dismount. That mistake wasn't discovered until midway through the event.
By the end of the first day of competition, the U.S. team was in sixth place and despite a nearly flawless second-night showing, the gap between themselves and a bronze medal proved too much to cover.
Suddenly, a team that arrived in Sydney with high expectations and under such a microscope after the 1996 U.S. team captured the gold medal was heading back to the United States empty handed.
"It wasn't like a fitting end that we felt like, 'This is what should have happened because everything else was pretty bad,'" Ray said. "It was still extremely disappointing because we had a really great competition the second night. It just wasn't enough."
Ray enrolled at Michigan in January 2001, three months after the Olympics. Ray figured a different environment in a new place would help her forget Sydney. Although she was an Olympian, she rarely discussed it, determined to establish an identity as just another American college student.
Making matters worse, Ray was recovering from a dislocated shoulder she suffered in the Olympics. Yet, as much as she wanted to put everything behind her, Ray couldn't seem to break free from the sport that, until then, had consumed her life during her training for the Olympics.
And Michigan gymnastics coach Bev Plocki knew it.
Although gymnastics at the collegiate level is worlds from the universe of the elite international scene Ray had come from, Plocki wasn't about to try and rush the freshman. Plocki realized she'd have to treat Ray differently than any other incoming freshman she ever had.
"She had been so guarded for such a long time that it took her a while to relax and just realize we were there to do everything we could possibly do for her and for that trust to build up," Plocki said. "It was clear from the beginning we were going to need to let her decompress a little bit."
Despite being an elite athlete, Ray hadn't done much in the way of conditioning since the Olympics. Not only was she joining Michigan's team in mid-season, but she was out of shape, leaving Plocki no choice but to bring her along slowly. It wasn't long before people outside the program began to question why Ray wasn't doing more highly skilled routines.
As much as Ray struggled to regain her Olympic form, she also wasn't sure she even wanted to compete, thanks again to everything that had transpired at the Summer Games.
But Plocki knew if Ray was going to contribute at all, she'd have to do it on her own time table. Meanwhile, Ray found herself with a new family at Michigan, surrounded by teammates and coaches that didn't ask a lot of questions but instead allowed the freshman to warm up to them.
She began to love the sport again, finding Michigan to be the perfect remedy to begin her healing process.
"I couldn't have been in a better place to get over the mess I had come from," Ray said.
Ray went on to win an NCAA all-around championship as a freshman before capturing individual titles in on the beam (2002) and on the bars (2004) during a career in which she would become the most decorated Michigan gymnast of all time. In her senior year, Ray helped lead the Wolverines to the Super Six finals in 2005, when she captured the silver medal on the beam.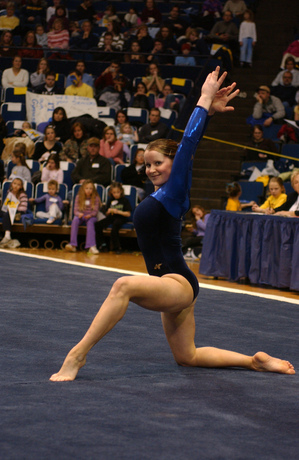 Over time, she shed the emotional baggage she had dragged with her to Ann Arbor, blossoming into the gymnast Plocki knew was there.
As well as her gymnastics career was going, Ray didn't try to return to the Olympics. When the 2004 Games rolled around, she didn't watch. Even two years ago, Ray watched only select events, steering clear of the gymnastics competition.
"I'm still proud I can say I was part of that small percentage of elite athletes who makes it there," she said. "But it's difficult to watch the whole experience of it - the opening ceremonies and shots of athletes around the village - because I can't look back and say, 'Gosh, I remember that - what an outstanding memory.'
"I don't even know what that feels like so I figured why watch it and wonder."
After graduating from Michigan with a degree in English, Ray spent 2 1/2 years performing with Cirque du Soleil in Las Vegas. Although she loved being part of the show, she discovered she didn't care much for the neon existence in Las Vegas.
She returned to Maryland, where she works as a personal trainer and coach while also dabbling in freelance writing for a web design firm. She also works occasionally as a color analyst for the Big Ten Network.
Until last month, she had completely rid herself of what had happened 10 years ago before the IOC made its stunning decision.
At a meeting in Dubai, the IOC determined that Chinese gymnast Dong Fangxiao was 14 at the time of the Sydney Games - two years younger than the 16-year-old requirement for Olympic competitors.
Rumors had surfaced a month earlier that the IOC would strip China of its medals. Ray didn't get wrapped up in what was going again until former U.S. coach Kelli Hill called and informed her of the IOC's ruling.
Although a medal ceremony at the U.S. Championships would reunite Ray with her Olympic teammates, it also will lack something.
"Although I am so, so appreciative to the IOC for doing this, we were robbed of the actual podium experience in Sydney, and that's really hard to swallow because I can't imagine how that feels," Ray said. "Just knowing we could have stood on that podium 10 years ago is kind of hard to swallow."
Three weeks after the announcement, the reality of being an Olympic medalist 10 years removed hasn't completely sunk in. A decade of learning and growing has given Ray a new perspective on her own Olympic journey.
"It's really wonderful to see her now and see how much she has matured and how she has deal with all that stuff from the past," Plocki said. "That's why I think it couldn't be better timing for the (IOC) to turn around and award them this medal because now, she's at a point where she will welcome it and be really excited about it.
"Five or seven years ago, I'm not sure that would have been the case."
As a coach who works with young gymnasts, Ray's unique 10-year journey has provided an important life lesson - not only for herself but for the young girls she works with. It's one that has been 10 years in the making and one that has been learned while enduring a roller coaster of emotions.
Maybe it's why Ray puts so much credence in a journey that has led to her crowning achievement as a competitive gymnast.
"I tend to forget all the success I had that got me there because of one bad memory," Ray said. "It's interesting to look back because there are things I wish I would have done or spoken up, but at the time, I just couldn't do it.
"So there are some regrets, but I always told myself success is a process. And just because that one competition didn't go the way we hoped and because the whole experience was kind of taken from us, it doesn't erase the experiences I had that got me there."
Jeff Arnold covers sports for AnnArbor.com and can be reached at (734) 623-2554 or by e-mail at jeffarnold@annarbor.com. Follow him on Twitter @jeffreyparnold.