Posted on
Mon, Feb 14, 2011 : 11:46 a.m.
Former Michigan hockey defenseman Steve Kampfer adjusting to life in the NHL
By Jeff Arnold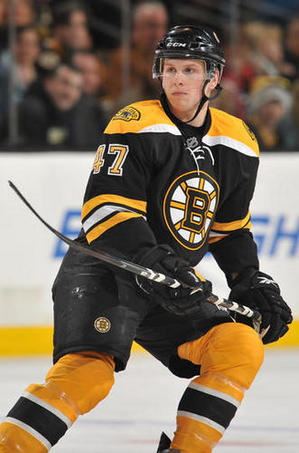 Boston Bruins photo
This weekend was supposed to have been a happy homecoming for Steve Kampfer.
On Saturday night, the former defenseman with the Michigan hockey team sat inside Yost Ice Arena, enjoying a rare night in familiar surroundings just two months into his NHL career.
Kampfer talked of how good it was to be home and how much he missed skating in front of Michigan's raucous fan base and hearing the hockey pep band. As he spoke, Kampfer's eyes rarely left the ice below, focused intently on watching his former teammates.
On Sunday, he would again being in friendly confines, playing for the first time as a Boston Bruins rookie at Joe Louis Arena. It's where the 22-year-old Jackson native groomed his game as a youngster playing with the Little Caesars AAA hockey club.
His most recent trip to Joe Louis had also ended well. In Kampfer's final appearance in Detroit with the Wolverines last spring, Michigan clinched a CCHA Tournament championship and earned its 20th straight NCAA bid.
But this trip, Kampfer acknowledged Saturday, would be special.
"It's awesome being back, but (Sunday) is my first game at Joe Louis as a pro," Kampfer said Saturday night during Michigan's 2-1 victory over Ohio State. "I've played there many times, and so don't think it will be any different. I've just got to take it as another game."
Kampfer, who has played 29 games with the Bruins since being called up from Providence on Dec. 8, never got the chance. Although about 40 friends and family members made the short trip to Detroit and his parents flew in for the weekend from Florida, Kampfer was scratched from the Bruins' lineup in place of teammate Mark Stuart.
After proving to be a steady offensive defenseman with the Bruins, Kampfer has struggled of late. Boston coach Claude Julien told reporters Sunday his decision to sit Kampfer had been some time in coming.
"I know it's difficult timing, but we've got to make decisions for the right reasons," Julien said after Boston's 4-2 loss to the Red Wings. "We've been talking to him now for a while about his game. And in the quick decision-making department, he's been struggling now for a bit, and that's his biggest area of strength.
"He's having a tough time with it, so we're going to sit back there, keep working with him and get him back on track."
On Saturday, Kampfer said he was adjusting to the changes between playing in the American Hockey League and NHL. Kampfer made a good first impression witih four goals and five assists after scoring three goals and registering 13 assists in 20 games in Providence.
"There was never a pressure to do anything out of my comfort zone," Kampfer said. "So that's what I did and things have worked out really well."
Kampfer stuck with the Bruins after being called up on an emergency basis after an injury to Stuart. Kampfer was solid through his first 19 games with the Bruins, but, according to Julien, had dropped off in his last 10 outings.
Kampfer - who was among the final two cuts made after training camp - said Saturday he wasn't yet completely comfortable playing at hockey's top level.
"I don't think you can ever be comfortable," Kampfer said. "The day you start getting comfortable is the day you start going backward. So you have to learn something new every day, and you can't take your job for granted.
"That's one thing you have to learn. You have to be in your position all the time or it's a goal against. So you have to make sure you're playing your game and doing your job and everyone else is going to do theirs."
Jeff Arnold covers Michigan hockey for AnnArbor.com and can be reached at (734) 623-2554 or by e-mail at jeffarnold@annarbor.com. Follow him on Twitter @jeffreyparnold.