Posted on
Fri, Jan 22, 2010 : 9:47 p.m.
Former Michigan hockey player Jack Johnson: I've said my piece
By Jeff Arnold
Jack Johnson is ready to move on.
The former Michigan hockey player told AnnArbor.com Friday night that he has "said his piece" a day after responding to comments about Johnson's alma mater by Los Angeles Kings' general manager Dean Lombardi.
Lombardi referred to Michigan as "the worst" in developing hockey talent and called Johnson "an awful hockey player" in an interview on frozenroyalty.net, according to a published report in Friday's Los Angeles Times.
Thursday night after the Kings' 4-3 shootout win over Buffalo in Los Angeles, Johnson said he was proud to be a Michigan man and "wouldn't have it any other way." Friday night, Johnson backed his comments.
"Obviously, I wasn't expecting (Lombardi's comments), but I said my piece in the L.A. Times," Johnson said during the first intermission of Friday night's Michigan-Ferris State game at Yost Ice Arena. "If anyone has any more questions, they should talk to (Lombardi) about it. They were his comments."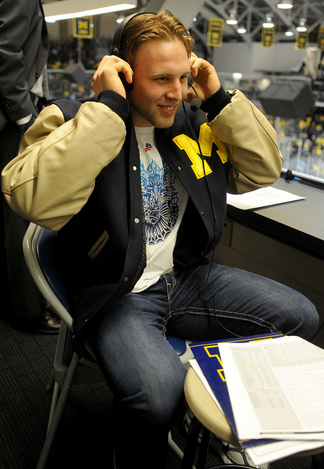 Johnson, 23, is in town with the Kings for Saturday night's game against the Detroit Red Wings at Joe Louis Arena.
At Michigan, Johnson set a freshman record for defensive scoring with 32 points (10 goals, 22 assists) in 38 games with the Wolverines. He was a finalist for the Central Collegiate Hockey Association's top offensive defenseman and was a member of the league's All-Rookie team.
Originally signed by Carolina, Johnson was traded to Los Angeles in 2006. He has four goals and 14 assists in 49 games with the Kings this season.
In his comments to The Times, Johnson said Michigan's record of sending players to the NHL speaks for itself and that anyone who says differently doesn't know what they're talking about.
When asked how the comments would affect his relationship with Lombardi, Johnson again noted his comments to The Times, but called his short stint at Michigan "a fabulous time."
Johnson defended Michigan coach Red Berenson, who Lombardi said didn't coach and allowed players - including Johnson - to do whatever they wanted.
"Obviously, I don't think that's true," Johnson said Friday night. "But (Lombardi) has his opinion and I spoke my piece of mind, and I'm just looking to move on.
"(Berenson) was great for me, and I still talk to him and love seeing him. He's been very instrumental in my career."
After Friday night's 2-0 Michigan win - the Wolverines' fifth in their last six games - Berenson said little when asked to respond to Lombardi's comments about Michigan's program.
"I don't think we need to worry about that today," Berenson said after finishing up his post-game press conference. "You can write your own story about that."
Johnson was named to the U.S. Olympic team on Jan. 1, learning of the news when U.S. general manager Brian Burke informed him of his selection by telephone. Johnson called his selection and dream come true and a chance to play on the biggest international stage.
"I think that's the greatest gift anyone can get at any time," Johnson said. "I've had my sights set on it for a couple years, but it's been a dream of mine since I was a little kid."
Jeff Arnold covers Michigan hockey for AnnArbor.com. He can be reached at jeffarnold@annarbor.com or 734-623-2554. Follow him at Twitter @jeffreyparnold.