Posted on
Sat, Nov 28, 2009 : 1:58 p.m.
Former Michigan quarterback Jim Harbaugh a hot coaching commodity
By Dave Birkett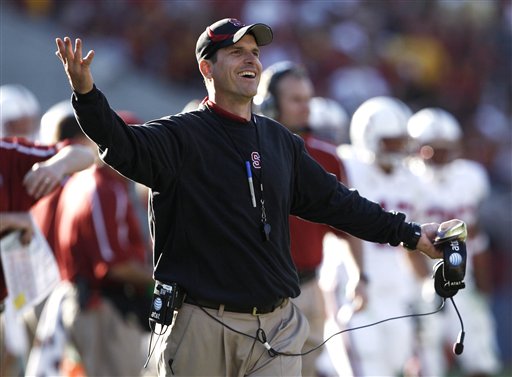 Jack Harbaugh
spent 7 seasons working under
Bo Schembechler
in the 1970s, and he sees a lot of the legendary Michigan coach in his son, Jim, today.
His mannerisms, his voice inflection, his philosophy on building a team, and, of course, his offensive play calling.
In a 55-21 win over Southern Cal earlier this year, when Stanford tried a late 2-point conversion in an attempt to hit half a hundred on the Pac-10's premier team, Jim Harbaugh called the same power running play 14 straight times.
"I thought, 'There's only one other man I know in this game of football that I've ever been associated with that would run the power 14 straight times,'" Jack Harbaugh said. "I can just see Bo up in heaven, he's talking to Woody and he's got a big old cigar and he and Woody are looking down on the game and he looks over to Woody and he says, 'That Jimmy Harbaugh, that's the way the game's supposed to be played,' taking real pride in it. And I truly believe that he does take pride in it."
Three years into a massive rebuilding job at Stanford, Jim Harbaugh is the hottest name on a coaching carousel that will begin spinning in earnest this week.
He's young, brash, has an impressive pedigree - besides Schembechler and his father, he counts Mike Ditka and Bill Walsh as two of his biggest coaching influences - and most importantly he's been wildly successful wherever he's gone.
At Michigan, Harbaugh went 21-3-1 in his final 2 seasons as starter in 1985-86, leading the Wolverines to Fiesta and Rose Bowl appearances.
He played 15 seasons in the NFL and spent another as quarterbacks coach of the Oakland Raiders, helping the league's most dysfunctional team make the Super Bowl before leaving for the University of San Diego, where he won 2 Division I-AA Mid-Major national titles in 3 years.
At Stanford, Harbaugh has built a top-25 program after years of ineptitude. He took over a 1-11 team coming off 5 straight losing seasons, and after 2 sub-.500 years of his own had the Cardinal 7-4 entering Saturday's season finale against Notre Dame.
Harbaugh declined an interview request for this story through Stanford's sports information department, but he acknowledged the state of the program he inherited on a recent Pac-10 teleconference.
One of the Cardinal's biggest impediments to success was a culture of low expectations when it came to football.
"I deeply believe in the Stanford motto, and that is academics first above everything else and the idea that you can have it all," Harbaugh said. "They can eat the whole pie. Not just a slice, not half of it, but the entire thing. They can achieve in the classroom and on the field."
When he first took the Stanford job, Harbaugh had regular lunches with Walsh, the innovator of the West Coast offense who was then a consultant in the athletic department. They talked life and football, and with Harbaugh recording many of the conversations, they exchanged ideas on how to build a program.
This year's team, led by workhorse running back Toby Gerhart, a Heisman Trophy candidate, and talented young quarterback Andrew Luck, is what Harbaugh had in mind.
Of course, the rebuilding process is far from complete - "We're certainly not thinking that we've arrived or we're satisfied in every way," Harbaugh said - and it remains to be seen whether he'll stick around to see it through.
He's been mentioned as a candidate for the Notre Dame job should Charlie Weis be fired, and last year there was talk of him joining his brother, Baltimore Ravens coach John Harbaugh, in the NFL.
So far, Harbaugh has deflected questions about other jobs, even threatening to cut short a radio interview when the subject of taking over for Rich Rodriguez at Michigan came up.
But with a three-year contract extension sitting unsigned on his desk and the off-season just under way, don't expect the speculation to end anytime soon.
"I think he's very, very happy at Stanford and Stanford is where he wants it to be," Jack Harbaugh said. "But I would say this that still Michigan is the place that he loves, the place that for him was his foundation. It's where, the five years he spent there, his education there at Michigan and his associations with Bo and the other coaches on the staff, that's the place that he will always call home."
Dave Birkett covers University of Michigan football for AnnArbor.com. He can be reached by phone at 734-623-2552 or by e-mail at davidbirkett@annarbor.com. Follow him on Twitter @davebirkett.