Posted on
Thu, Dec 1, 2011 : 3:27 p.m.
Former Michigan soccer players shocked by Steve Burns' resignation
By Pete Cunningham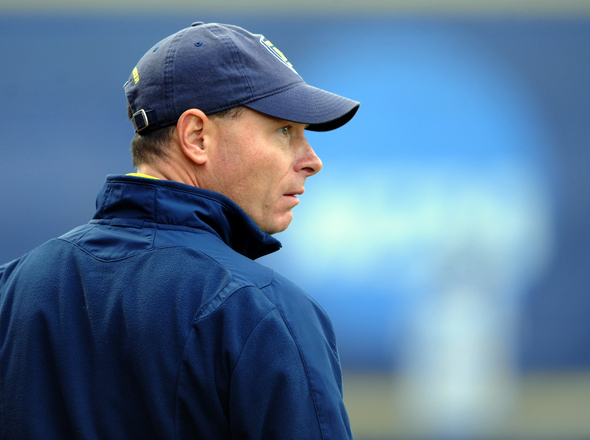 AnnArbor.com file photo
Last year at this time, Justin Meram, Soony Saad and Michigan soccer coach Steve Burns were preparing for the College Cup, NCAA soccer's Final Four. Now Saad and Meram are enjoying success as professionals in Major League Soccer, and Burns is out of the job.
Burns — selected NCAA Division I Coach of the Year in 2010 by FieldTurf — resigned Wednesday night stating, "it's time for a new direction in my life and leadership for Michigan soccer," in an announcement put out by the University.
Meram was shocked to learn the news.
"I was pretty upset about it, actually," Meram said in a phone interview. "What Steve has done for the Michigan program, nobody will ever do. You'll never find another coach that's all for Michigan the way Steve is."
Meram, drafted by the Columbus Crew in the first round of last year's MLS SuperDraft and who recently had his contract extended, said he spoke with Burns on Tuesday and nothing seemed amiss.
"He told me he was busy recruiting and seemed excited about the guys he was looking at, like he always is," Meram said.
Saad, who now plays for Sporting KC, said the former teammates he keeps in contact with never indicated they knew nothing of a pending resignation.
"Nobody even hinted at it. I keep in close contact with Fabio (Villas Boas Pereira), some other guys (on the team) and they never said anything," Saad said. "It's been a rebuilding season, obviously, not as good as last season, but things were in place to be good next year."
According to a Michigan Daily report, current team members were informed of the resignation Wednesday at a meeting.
Michigan returned just four starters from its 2010 Big Ten championship team that set a program record for victories in a season (17). Michigan went 5-14-1, 1-5 in conference play, and was ousted in the first round of the Big Ten Tournament.
Meram graduated, but Saad (a second team All-America and Big Ten Freshman of the Year last season) and his brother Hamoody Saad — a two-year starter — left the program early. Between Meram and the Saad brothers, the Wolverines lost 67 percent of their offense.
The team was also caught off guard by the departure of goalkeeper Chris Blais, who transferred to the University of South Florida prior to the season. Blais started every game for Michigan in the 2010 season as he has for South Florida this year, which is preparing to play in the NCAA quarterfinals this weekend. Blais was allowed to play immediately at USF due to an NCAA rule that allows graduates with a year of eligibility to transfer without penalty.
"It's tough, that happens to you late and it's not like you can just go pick players off of a tree," Burns said earlier in the season.
"I think that we had a tougher time with it just because of the losses of the (players) that went pro that we didn't expect to go pro. We didn't think that it was in their best situation for them to go pro," Burns said.
There was also a lot of turnover on Burns' coaching staff this year with associate head coach Paul Snape taking the head coaching job at Butler University. Adam Bruh, a volunteer assistant under Burns last year, took a job on Snape's staff and Burns' other assistant coach, Chris Grassie, was hired as the head coach at University of Charleston.
Grassie and Snape both declined to comment for this story.
"With players and coaches leaving, of course it's going to be rough, the Big Ten is rough," Meram said. "I'm at a loss for words."
Saad said he hopes to see Burns on the sidelines soon.
"I've known Coach Burns from young age, and he's inspired me," Saad said. "He was a winner, he wanted something and got it. The drive to College Cup really showed his potential."
Burns is the only head coach the varsity team has known, serving in that capacity since the program was elevated from club status in 2000. In 12 seasons, his teams were 122-98-22 with a 27-38-8 mark in Big Ten Conference play. Burns also served as the head coach for Michigan's club team from 1993-99, winning national championships in 1997 and 1998.
Burns could not be reached for comment, nor could representatives from Michigan.
Pete Cunningham covers sports for AnnArbor.com. He can be reached at petercunningham@annarbor.com or by phone at 734-623-2561. Follow him on Twitter @petcunningham.