Posted on
Sat, Jul 10, 2010 : 4:07 p.m.
Former Michigan hockey defenseman Jack Johnson keeps his word, continues to pursue degree
By Jeff Arnold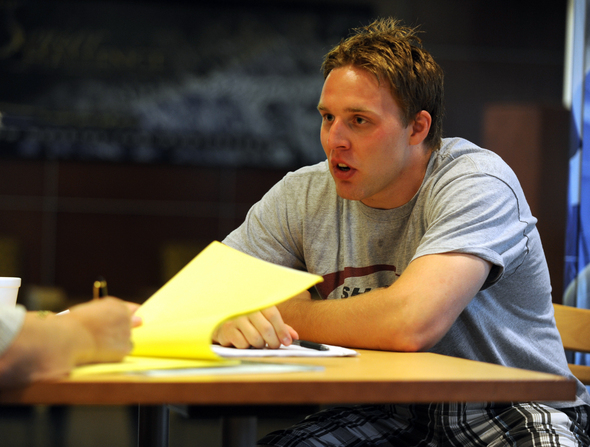 Lon Horwedel | AnnArbor.com
When Jack Johnson enrolled at Michigan in 2005, he intended to stay four years, graduate with his degree and then see where hockey took him.
But when the chance to pursue an NHL career following his sophomore year proved too tempting to turn down, Johnson left the Michigan hockey program. But not before promising Wolverines' coach Red Berenson that one day he'd return to finish what he had started.
Slowly, but surely, Johnson is remaining true to his word.
Each summer, the fourth-year Los Angeles Kings defenseman returns to Ann Arbor, enrolls in summer school and continues to chip away at his general studies degree. Although he hasn't experienced life as a full-time student for three years, Johnson relishes his time on campus.
"I knew it wasn't going to be easy," Johnson said on Thursday. "If it was easy, everyone who left would do it. I'm not in a race to get it, but I know if I stop, it will be hard to start up again.
"I can't play hockey forever, unfortunately. I will have the second half of my life ahead of me, and I want that degree."
During the NHL season, Johnson, who is 23, takes classes online, using off-days to study and complete coursework. Technology, including video conferencing and Web tutorials, has made distance learning easier, but balancing school with an NHL career isn't easy.
The fact Johnson continues to work toward a degree impresses Berenson. He, too, expected that Johnson, who is coming off his best NHL season - 36 points on eight goals and 28 assists in 80 games - would be in school for four years, fully honoring his commitment to the Wolverines.
The NHL had beckoned before when the Carolina Hurricanes made Johnson the third overall pick in the 2005 entry draft. Instead, Johnson came to Michigan and as a sophomore, led Wolverines' defensemen with 16 goals and 23 assists, earning the CCHA's top offensive defenseman award.
After the Hurricanes traded Johnson's rights to Los Angeles, the Michigan star elected to join the Kings after the Wolverines' loss in the NCAA West Regional semifinals. It wasn't the exit that Johnson or Berenson had planned on, but given the timing and the opportunity Johnson had, both decided it was the right thing to do.
"I've always told kids that if they're ready for the NHL, I'll drive them to the airport," Berenson said. "I don't want to get in the way of their NHL dreams. But at the same time, I'd like for them to have a plan on how they can finish school.
"Jack's done really well with that. Some players say they'll (come back to finish) and they never do. But Jack has, and good for him."
Finishing his Michigan degree remains Johnson's intent. This fall, he plans to tackle a larger class load. He's not sure what he will do with his degree once his playing career is over, but he can't see straying too far away from his alma mater.
Johnson, who earned a silver medal with the U.S. Olympic hockey team at the Vancouver Winter Games earlier this year, realizes he is a bit of rarity among his NHL counterparts. While many players return to school after their playing days are over, Johnson realizes what finishing his degree now can mean later.
"I come from a family where everyone has a degree, and I don't want to be the black sheep at the dinner table," Johnson said. "My 12-year-old brother gives me a hard time and he says he's going to get one before I do, and so I've got pressure.
"But I'm very proud of being a Michigan athlete, a Michigan student and it's always something I'll have in my pocket. It's a priceless thing to have."
Jeff Arnold covers Michigan hockey for AnnArbor.com. He can be reached at jeffarnold@annarbor.com or 734-623-2554. Follow him at Twitter @jeffreyparnold.