Posted on
Thu, Mar 28, 2013 : 5:45 a.m.
Former Skyline quarterback Andrew Copp a 'late bloomer' for Michigan hockey team
By Pete Cunningham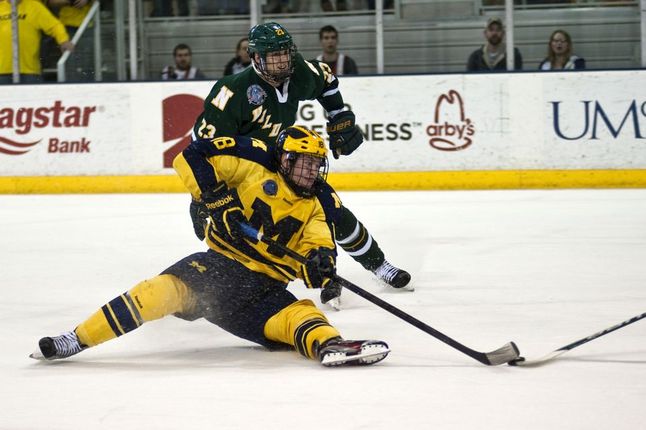 Joseph Tobianski | AnnArbor.com file photo
For the first part of the
Michigan hockey
team's season, freshman forward
Andrew Copp
was an afterthought on the score sheet. Copp had just two points - one goal and one assist - in the team's first 18 games of the season, with as many healthy scratches.
But something clicked over Christmas for Copp and by year's end was one of the most productive players on the team.
Copp doubled his totals for the year in the consolation game of the Great Lakes Invitational and it ended up being a sign of good things to come.
"I think a lot of hockey is confidence and I think it started over Christmas," Copp said. "I think I had a good break and got my mind in the right place and came back and was able to start playing and putting pucks in the net and confidence started growing and got more opportunities."
Copp was the second most productive player on the team after Christmas, with 19 points in 22 games. He rose from fourth line left wing who was a healthy scratch in the first series of the year to starting center by season's end.
Michigan coach Red Berenson hopes the late surge is a sign to come for the rest of his career.
"I think when he came in he was just trying to just find a role on the team," Berenson said. "At the start of the year I would have told you that he's probably going to be in and out of the lineup depending on our team and other players and so on, but he just worked so hard in practice."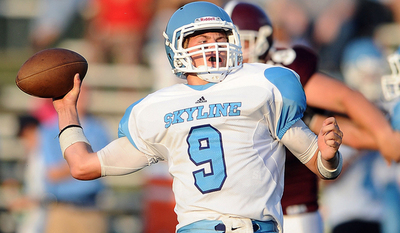 Copp was an
All-State football player
at Skyline High School and also a member of the United States National Team Development Program. The program typically forbids players from participating in other high school sports, but made an exception for the Ann Arbor native who was part of Skyline's inaugural class before joining the program.
Copp loved his time as a high school quarterback, but acknowledged that splitting his time between the sports probably hurt his development as a hockey player slightly, especially when he broke his collar bone during the football season.
In his first year of being a full-time hockey player, Copp said he surpassed his own expectations.
"I didn't feel like I was going to climb this far this year, so obviously I think I've overachieved a lot," Copp said. "But I'm just happy to have the opportunity that I've got and happy I've made the most of it."
Berenson thinks the best is yet to come from Copp.
"I think he's a late bloomer. Some develop to a point and then they level off when they're in school, or they level off after one year," Berenson said. "He's been a part-time football player and a part-time hockey player, so I think he's going to be a late bloomer and he's just starting to go."
Pete Cunningham is the sports director at AnnArbor.com