Posted on
Wed, Jan 23, 2013 : 4:42 p.m.
Former teammate of Harbaugh brothers recalls Ann Arbor Junior Football days
By Pete Cunningham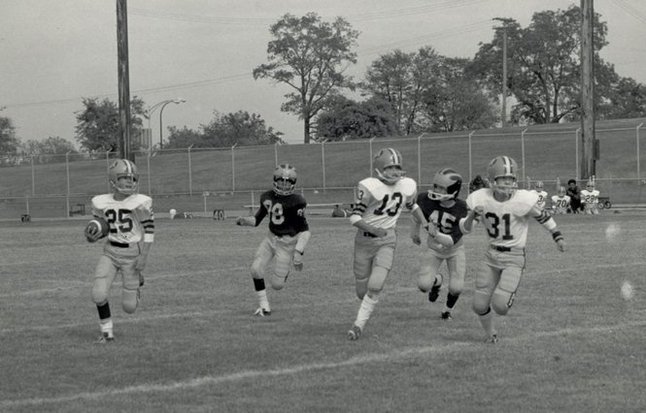 Photo courtesy of David Thayer
Long before brothers John and Jim Harbaugh were Super Bowl-bound head coaches, they were members of the Ann Arbor Packers of the Ann Arbor Junior Football League. According to a former teammate,
even back then they knew their stuff.
"I was focused on, 'Where do I put these pads?' It was clear they were focused on the position they wanted to play and how they were going to do it. They knew their stuff," former Ann Arbor resident David Thayer told the Kalamazoo Gazette. "They were very intense and very competitive right from the start. If we ran around the entire practice field, they were vying to be in the front of the line. It was pretty incredible right from the start."
Thayer, who resides in Kalamazoo, grew up in Ann Arbor in the 1970's and played with them both for the Packers. Thayer recalls being put at quarterback after tryouts in 1974, much to the chagrin of his backup, Jim, who was at the time the team's running back as well. The two eventually switched positions, and all was right with the world.
"It became clear from Jim and his non-verbal signals, which he hides them as well now as he did then, that he was not thrilled about not playing quarterback. Jim was there to play quarterback. I was there to just play," Thayer said. "I went to coach and said, 'Listen coach, I just want to play. I really don't care what position...They moved me to left halfback and Jim to quarterback and John to receiver and we kind of went from there."
Pete Cunningham covers sports for AnnArbor.com. He can be reached at petercunningham@annarbor.com. Follow him on Twitter @petcunningham.